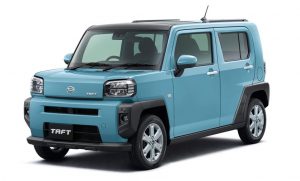 On April 20, 2020, Daihatsu Motor Co., Ltd. released information on the new "Taft" mini passenger car scheduled to be released in June of the same year.
This new model Taft is a crossover type light passenger car, which was developed with the intention of playing an active role in a wide range of situations from everyday life to leisure scenes.
Daihatsu had sold a cross-country car of the same name from the 1970s to the 1980s, but the model name this time was not that bad, it was an acronym for the concept of "Tough & Almighty Fun Tool". Is explained. The most distinctive feature is the proposal of equipment and usage not found in other vehicle models. For example, the glass roof "Skyfeel Top", which is the only example adopted today for mini vehicles, is standard equipment on all grades. The luggage compartment area has been devised so that it can be used in a variety of situations, and the deck board that allows the height of the floor to be adjusted in two stages can be used as a "luggage rack" when leaning against the back of the rear seats for storage. The edge has a hook shape. Although there is no slide adjustment mechanism in the rear seats, if you tilt down the anti-fouling split retractable backrest and set the deck board to the upper stage, you can get a wide loading space with a flat floor surface. It will be done.
YUI