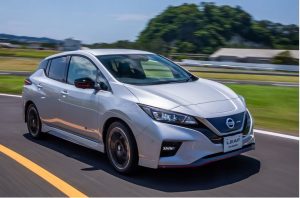 Nissan Motor Co., Ltd. made a minor change to the pure EV "Leaf NISMO" on July 20, 2020, and started selling on the same day.
The Leaf NISMO announced this time was developed based on the "X" grade equipped with a 40kWh battery with a maximum output of 150PS/maximum torque of 320Nm in the lineup of the "Leaf" which was minorly modified in January of the same year.
Changes such as improvement and expansion of driving support technology including "ProPilot", addition of new service contents to "Nissan Connect", standardization of "Nissan Connect navigation system (built-in terrestrial digital) for EV" with 9-inch monitor , According to the base model. For the Leaf NISMO-specific improvements, the steering gear ratio was changed from 18.3:1 to 14.9:1 to achieve quick handling with a European taste. In addition to special parts such as suspension springs and bump rubber (made of urethane), electronically controlled brakes, "Intelligent Trace Control (IDM)", "Vehicle Dynamics Control (VDC)", etc. have been tuned for sports cars. It is said that it has realized a run that is reminiscent of. An optional sports seat with a RECARO heater with the "nismo" and "RECARO" logos has been newly set.
YUI