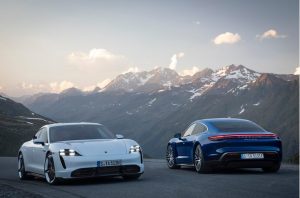 Porsche Japan announced the domestic price of Porsche's first 100% electric vehicle "Tycan" on June 5, 2020.
Taikan is a 4-door, 4-seater sports saloon. Each front and rear axle is equipped with a motor, and the rear axle is equipped with a two-stage AT.
In Japan, there are 3 models: "4S" with maximum output/maximum torque of 530PS/640Nm, "Turbo" with 680PS/850Nm, and "Turbo S" with 761PS/1050Nm. be introduced. Porsche Japan unveiled the car on November 20, 2019 in Japan, and started accepting pre-orders on the same day, but the price was not announced.
・Taikan 4S: ¥14,481,000
・Taikan Turbo: 2,021,000 yen
・Taikan Turbo S: 24,541,000 yen
All of the introduced models are right-hand drive models, and many standard equipment such as lane change assist, adaptive cruise control, and park assist with surround view that are optional in other markets are standard equipment. The price also includes the charger "Porsche Mobile Charger Connect".
YUI