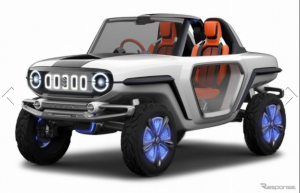 Suzuki announced the outline of the exhibition of the "45th Tokyo Motor Show 2017"
which will be held at Tokyo Big Sight from October 27th to November 5th (public release is from October 28th).
At the Tokyo Motor Show this year, Suzuki, which marks the 100th anniversary of its founding in 2020,
sets "Exciting" to "Anyone, Everywhere" as an exhibition theme,
and Suzuki will further develop products and technology for the next 100 years We will show off our efforts.
Suzuki is a world premiere of seven models at once. Rumor "Hustler wide" also
Suzuki has released a compact SUV concept "e-Survivor" with four-wheel independent drive mounted
with a motor for the first time. We propose the possibility of a new 4WD to be brought by electrification as
it is with the Suzuki SUV tradition of ladder frame and lightweight compact body.
YUI