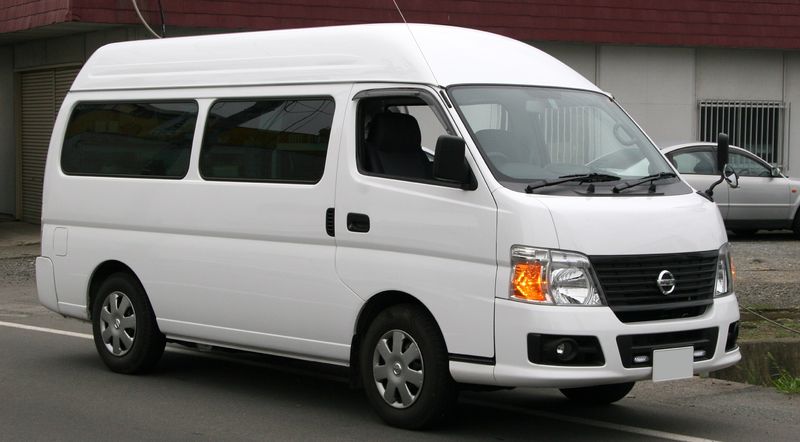 This model is from 2001year.
It's super long body and 10 seater which has slide door on left back side.
There are two grade , the one is "DX" and another one is "GX".
GX is highroof model which has 265mm height inside.
[QGE25] KA24DE Engine / 140ps / 2388cc / 4 Cylineder
[SGE25] QR25DE Engine / 147ps / 2488cc / 4 Cylineder
CARAVAN is the representative van of NISSAN.
And this CARAVAN COACH model is used for bus and for handicapped too.
Japanese most popular van is TOYOTA HIACE VAN.
But it's so expensive and many people can not buy HIACE VAN cause by low budget.
NISSAN CARAVAN is able to buy lower budget.
So you can get newer year and high quality than HIACE VAN by same budget.
Nowadays , this CARAVAN COACH model is very popular from Central America ( Saint Vincent , Antigua , etc ) and East Africa ( Tanzania , Zimbabwe , Uganda , etc ).
They are using for mini bus or taxi.
And the transport business which using CARAVAN COACH is good business for you.
Therefore I recommend so much for NISSAN CARAVAN COACH.
If you are interested to buy NISSAN CARAVAN COACH , please check the list.
NISSAN CARAVAN COACH
If you are looking for any Japanese vehicles , cars and truck and bus , please check our list.
The list of Japanese Used CAR , Truck and bus exporter EVERYCAR.jp (* Click to open).
We do our best work for all customer's partnership.
It's for SDGs Goal number 17 "PARTNERSHIP FOR THE GOALS"
Let's work together !!