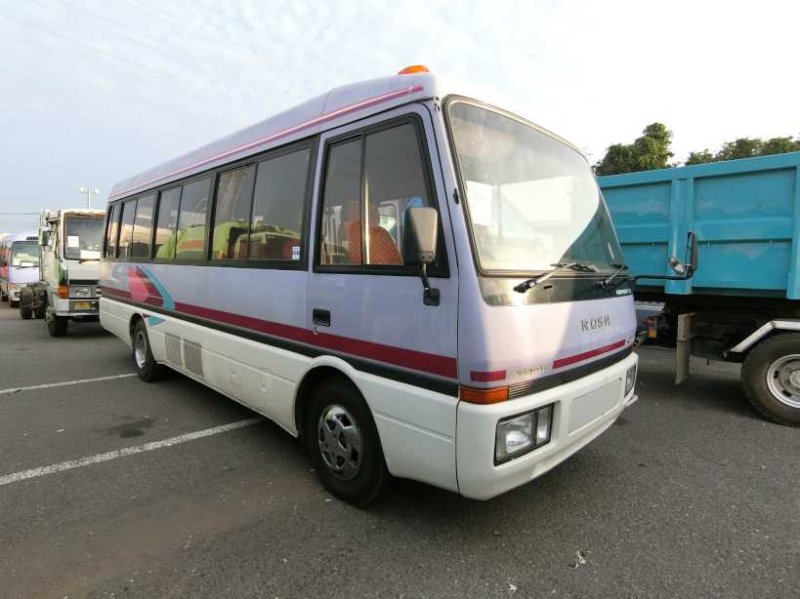 1992 MITSUBISHI ROSA / 4D34 Engine / Manual / 29 seats
MITSUBISHI ROSA with a 4D engine has been popular for a long time, but it seems that the popularity is rising even more recently.

In particular, the 29-passenger MITSUBISHI ROSA, which is a manual car, does not come on the market very often, and it is difficult just to find one.
The 4D34 engine is particularly popular in the East African area, where it fetches a higher price than Rosa from the 2000s onwards.
Engine type / 4D34-T4
Maximum output / 155ps (121kW) / 3200rpm
Maximum torque / 38.0kg・m(373N・m)/1800rpm
Type / in-line 4-cylinder IC turbo
Total displacement / 3900cc
The industrial engines of Mitsubishi Fuso trucks and buses are world-recognized talents. The traditional technological capabilities cultivated in automobile engines are utilized in the industrial machinery and construction machinery fields around the world. We have the durability and reliability to demonstrate.
If you are looking for any MITSUBISHI ROSA , please check our list.
MITSUBISHI ROSA (*Click to open)
We do our best work for all customer's partnership.
It's for SDGs Goal number 17 "PARTNERSHIP FOR THE GOALS"
Let's work together !!
I am waiting for your reply.
Best regards,