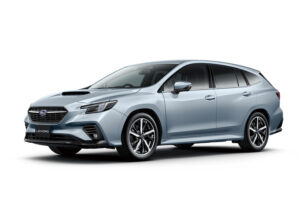 Subaru announced on May 25, 2021 that the sports wagon "Levorg" received the "Automobile Safety Performance 2020 Five Star Award" at the Automobile Assessment (JNCAP), which compares and evaluates the safety performance of automobiles.

JNCAP is an automobile safety performance evaluation conducted by the Ministry of Land, Infrastructure, Transport and Tourism and the National Agency for Automotive Safety and Victims. Every year, multiple models are arbitrarily picked up and collision tests and preventive safety function evaluation tests are conducted. The results are published on the website. The content of the test is changed from time to time due to the tendency of accidents and technological innovation of automobiles.In FY2020, the collision safety performance test and preventive safety performance evaluation test, which had been evaluated individually, and the automatic accident notification system Integrate evaluation. The overall safety of each vehicle type is now represented by the total score. At the 2020 JNCAP, Subaru Levorg recorded a high score of 186.9 out of 190 points. In addition to being highly evaluated in the crash test, the Five Star Grand Prize was awarded because it recorded the highest overall score in the test vehicle of the same year. The current Levorg is the second generation model announced in the fall of 2020, and the adoption of a full inner frame structure improves collision safety in all directions, front, rear, left and right. The driver's seat SRS knee airbag, which reduces damage to the lower limbs in the event of a frontal collision, and the passenger seat SRS seat cushion airbag, which enhances restraint protection performance with seat belts, improve occupant safety and enhance pedestrian protection performance. Pedestrian protection airbags are standard equipment on the bonnets of all vehicles. As for the preventive safety and driving support system, in addition to the new stereo camera with a wide viewing angle, all vehicles are equipped with the new generation "EyeSight" that realizes 360 ° omnidirectional sensing by installing four radars in the front and rear. In addition to improving software performance and adopting an electric brake booster, it has realized a collision avoidance support function in a wider range of scenes, such as when turning left or right at an intersection or when meeting in a place with poor visibility. In addition, we have adopted the connected service "Subaru Starlink," which consists of an automatic notification function that operates in the event of an accident or trouble. It will provide drivers with even more peace of mind.
If you are looking for any Japanese vehicles , cars and truck and bus , please check our list.
The list of Japanese Used CAR , Truck and bus exporter EVERYCAR.jp (* Click to open).
We do our best work for all customer's partnership.
It's for SDGs Goal number 17 "PARTNERSHIP FOR THE GOALS"
Let's work together !!
Best regards