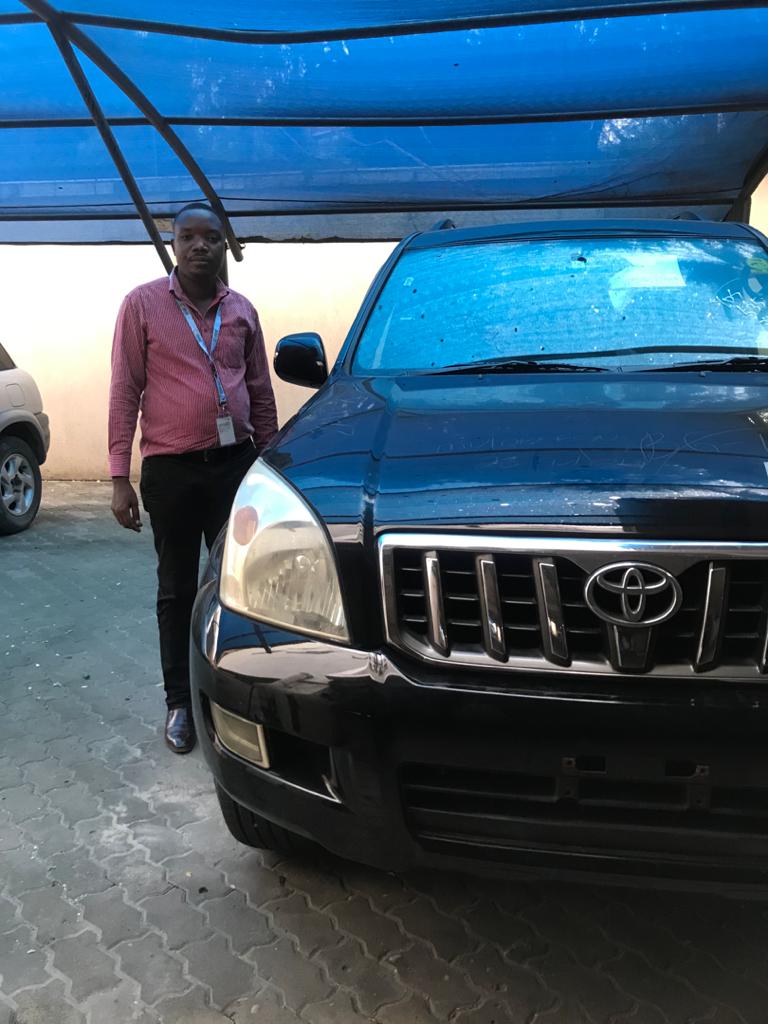 The customer sent the photo and reviews of the TOYOTA LAND CRUISER PRADO which he bought from EVERYCAR.jp
[Hellow, this is to inform you that, finally I have received my vehicle. Thank you so much and all the best.]
2006Year / TRJ120W / TX LIMITED / 2700cc
The odometer of this PRADO was over 200,000 kilometers, but it was in very good condition as the last owner performed regular maintenance. Many used cars used in Japan are maintained in very good condition due to regular detailed maintenance.
This PRADO is still active in Tanzania after being used for more than 200,000 kilometers on Japanese roads.
TOYOTA LAND CRUISER PRADO that also pursues on-road comfort. The lineup includes two body types, a 5-door long (7-seater / 5-seater) with a total length of 4,715 mm and a 3-door short (5-seater) with a total length of 4,340 mm, as opposed to the 5-door body Hilux Surf, which has the same basic structure.
There are three types of engines to be installed: the new V-type 6-cylinder 4L (249 horsepower) and 2.7L in-line 4-cylinder (163 horsepower), and the diesel 3L in-line 4-cylinder common rail type turbo with direct injection intercooler (170 horsepower).
The drive system is 4WD only, and all vehicles are equipped with a Torsen LSD-equipped transfer that has a torque-sensitive drive force distribution mechanism that controls the front and rear torque distribution according to the situation.
The 4L is a combination with a 5-speed AT with AI-SHIFT that automatically selects the optimum shift pattern, and the others are a 4-speed AT with a second start function that makes it easy to start on snowy roads.
The grades are 5 doors, but the advanced "TZ" and "TX". "G Selection" is available as a top variation of TZ.
The interior is equipped with genuine leather power seats with seat heaters, wood grain parts, and VSC (Vehicle Stability Control) + Active TRC.
The 3-door is the 2.7L gasoline "RX". Equipped with a spare tire carrier with a back door and a rear under mirror.
All vehicles will be equipped with anti-theft devices (engine immobilizer + auto alarm). In addition, the special specification car "60th Special Edition" set this time commemorates the 60th anniversary of the channel establishment of the Toyota store, smoked decorative plated front grille, black stone-grained instrument panel & door panel, genuine leather-wrapped 4-spoke steering wheel, A model equipped with genuine leather-wrapped shift lever knobs and transfer lever knobs.
If you are looking for TOYOTA LAND CRUISER PRADO , please check our list.
The list of TOYOTA LAND CRUISER PRADO (* Click to open).
We do our best work for all customer's partnership.
It's for SDGs Goal number 17 "PARTNERSHIP FOR THE GOALS"
Let's work together !!
Best Regards,