This Husband and wife was bought this Toyota NOAH.
We got this NOAH from local dealer's. The NOAH was over 200,000km ! But , the engine was so good and outside and inside are so clean condition. Therefore , they are so glad. and we are too.
Sometimes , Japanese local stock are no good condition. But we check all condition before shipping again and again.
And changing engine oil , and check air pressure too.
So the NOAH will be use long time again !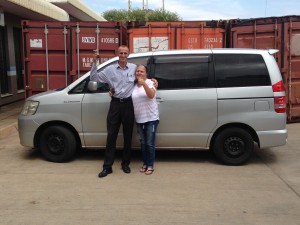 -------------------------------------------------------------------------------
(1)What kind of worries did you have before you ordered the car ?
Condition was a concern but I am very satisfied with the vehicle and condition.
(2)How did you know about our company?
Google
(3)Why did you choose EVERY CO., LTD? What was the advantage?
I have bought from EVERY Co., LTD before and will continue to support you.
(4)How is the car you bought?
Very Good, just concerned with the loss of the spare wheel and tools.
(5)Do you think you want to buy a car(s) from us next time?
Yes, most definitely.
---
If you are looking for any Japanese vehicles , cars and truck and bus , please check our list.
The list of Japanese Used CAR , Truck and bus exporter EVERYCAR.jp (* Click to open).
We do our best work for all customer's partnership.
It's for SDGs Goal number 17 "PARTNERSHIP FOR THE GOALS"
Let's work together !!
Best regards