Question1.What is guarantee of the used car condition ?
We check all condition before getting car and check again before shipping.
This is EVERY'S STOCK MAINTENANCE service.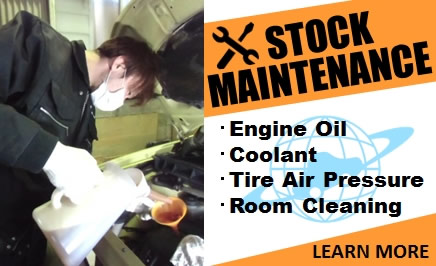 Especially , we check well coolant , changing engine oil , check tire Air Pressure , cleaning the room , check spare tire.
Please check the details : https://www.everycar.jp/blog/everys-strength%E3%80%80-5-strong-pillars/29/everys-strengthquality-and-affordable/
So our cars are high quality sure because we are thinking car quality is most important than price.
If the price is so cheap and bad condition , you must pay more after you get the car.
If the quality is best , you can use the car without any repair.
So we are thinking that best car quality will be make your smile.
Question2.What is auction grade by Japanese car auction ?
Japanese car auctions stock has "auction grade" for each car which made by the auction company.
Normally , there is 5 grade.
—————————————
Grade 5 : Like brand new car.
Grade 4.5 : Very nice. No scratch and dents.
Grade 4 : Nice. There are only small scratch or small dent. But it's so clean.
Grade 3.5 : Better. There are some small scratch or small dent but it's clean too.
Grade 3 : So so. There are some small scratch or small dent but it's clean too.
Grade 2 : Bad. There are some big scratch or big dent or big rust.
Grade 1 : Very bad.
Grade R : It has accident history. But it's already repaired to clean.
—————————————
We can check the grade which you wants one.
Even if the car is not our stock ( other company's stock ) , we can check the car grade from Japanese auction data.
This is "EVERY PRE-ORDER CONDITION CHECK SERVICE".
Please check the details : https://www.everycar.jp/blog/news/14/every-pre-order-condition-check-service/