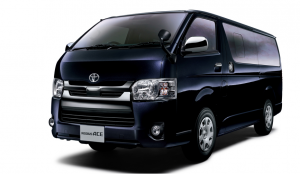 On August 6, 2018, Toyota released a special specification car "Super GL" DARK PRIME II "and a special model car" Super GL "50TH ANNIVERSARY LIMITED" commemorating the 50th anniversary of Hiace.
Among them, Super GL "50 TH Anniversary LIMITED" will be limited production until July 31, 2019.
This time Super GL "DARK PRIME II" is a special specification car which improved the texture of interior and exterior based on the highest grade "Hi GL" of Hiace and Regius Ace.
The exterior features dark plated front grille and back door garnish, the interior features black roof, pillar and separator bar.
In addition, the sliding door's scuff plate was equipped with a car name logo and illumination.
SRS air bag and seat belt (pre-tensioner & force limiter mechanism attached seat belt) (passenger's seat) are also provided as standard. For body color, all five colors including special setting color "Sparkling Black Pearl Crystal Shine" (option) are included.
Super GL "50TH ANNIVERSARY LIMITED" is based on Hiace's top grade "Super GL". It is dressed up with front lower grill with jet black plating, front fog lamp bezel with high brightness paint and full wheel cap.
The backdoor was also equipped with a "50 TH ANNIVERSARY" emblem.
Regarding the interior, in addition to unifying roofs, pillars and separator bars in black, dark brown color tricot + synthetic leather & double stitching was adopted for the sheet skin.
By making tea grain mahogany decorations and dark silver decorations everywhere, I gave a sense of quality and fine quality.
YUI