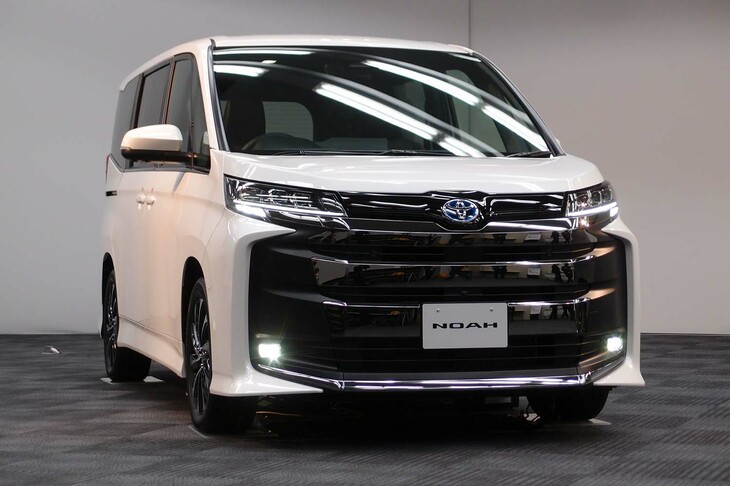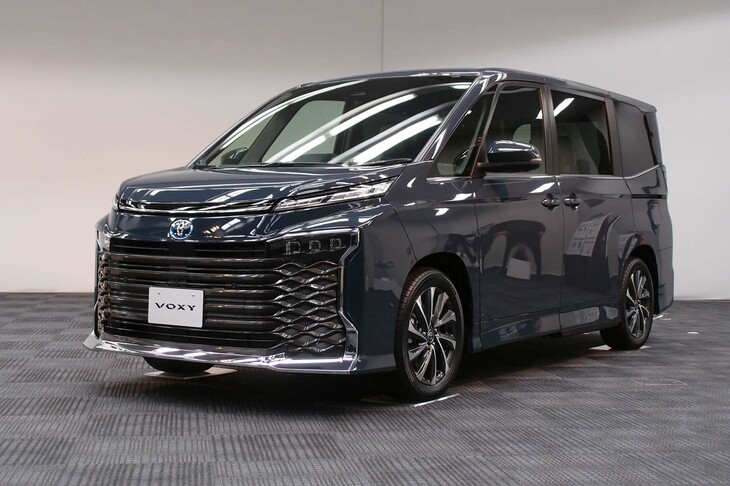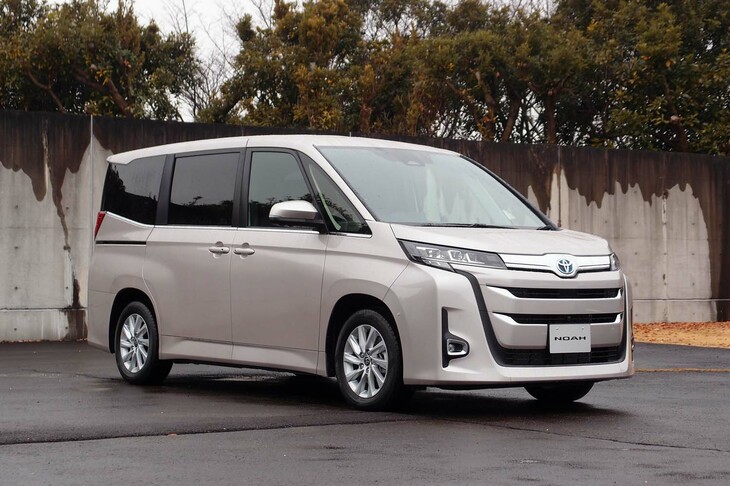 Toyota Motor announced new minivans "Noah" and "Voxy" on January 13, 2022. On the same day, sales started. The Noah / Voxy is Toyota's "5 number minivan" that has been popular for three generations since its introduction in 2001. This 4th generation, which made its debut with a model change for the first time in 8 years, also constitutes a product lineup with brothers. Toyota feels that it is responding to the predecessor who pursued "ease of use unique to minivans", and the new model was developed as a normal evolution version. It is appealing that it has been made into a more comfortable, more convenient, and more secure minivan.
The body size of the new model is common to Noah and Voxy, and the overall length x width x height (including the shark fin antenna with a height of 50 mm. The figures in parentheses are compared to the previous generation) = 4695 (± 0) x 1730 (+35) x 1895 (+70) mm .. By adopting the "GA-C platform" developed based on the idea of TNGA, the vehicle width exceeded 1700 mm, and it became a so-called "3 number vehicle". The wheelbase is 2850mm, which is the same as its predecessor.
The new Noah / Voxy is given a more unique front face than its predecessor, from the perspective that "box-shaped minivans can be differentiated by their faces." The basic Noah's has a relatively modern and dignified design, and there is also a lineup of grades dressed up with plated grills and aero parts. At Voxy, a "sharp and original style" is pursued, and the presence is emphasized by the bold grille and the brilliant front / rear lamps. The aero version of Voxy that was selected in the predecessor and the brother car "Esquire" that has a sense of luxury will not be set.
On the other hand, the interior realizes an open space with a clean view. It features a slim front pillar and an instrument panel that pursues a high-quality feel. While optimizing the skeleton of the body, the distance between the left and right C-pillars has been increased to 1295mm, which is +75mm compared to the previous model, and the interior height of 1405mm (+5mm) has been secured to realize an open interior space.
There are two types of seats that are the key to minivans: 7-seater and 8-seater. The second row of the 7-seater car has two independent captain seats, which are equipped with an ottoman mechanism, a seat heater, a large foldable side table, and a long slide mechanism of 745 mm in the front and rear. The second row of the 8-seater car is a bench seat that can be split into 60:40 chips, and the front and rear slide width is 705 mm. As a package option, a dedicated two-seater bench seat with a handrail is also available.
The third row seats are flip-up type like the previous model, but with the new development of a smart lock mechanism, fixing work after flipping up using straps is unnecessary. Since the seat itself is also thin, the second row seat can slide straight for a long time without interfering with the third row seat that is flipped up to the left and right.
In addition, for vehicles equipped with a power slide door, a "universal step" (passenger seat side) is set, in which steps are expanded and stored from the bottom of the door as the door opens and closes. There is also a "hands-free dual power slide door" that allows you to open and close the slide door by simply operating your toes if you carry the key, and a "free stop back door" that allows you to hold the back door at any angle when opening and closing. , Ease of use is thoroughly pursued.
The power unit lineup includes a new-generation hybrid system based on a 1.8-liter straight-four engine in addition to a 2-liter straight-four gasoline engine (maximum output 170PS, maximum torque 202Nm). The engine of the hybrid vehicle produces a maximum output of 98PS / maximum torque of 142N ・ m, and the front motor produces a maximum output of 95PS / 185N ・ m. It is also a big topic that a "hybrid 4WD car" that was not in the predecessor will be set. In this 4WD system "E-Four", the operating range of 4WD has been expanded, and the maximum output (41PS) is about 6 times and the maximum torque (84N ・m) is about 1.5 times that of the "Prius" E-Four. m) occurs. Not only does it support starting on snowy roads, but it also improves driving performance on dry roads.
As the drive battery, a lithium-ion battery having excellent space efficiency is used instead of the predecessor nickel-metal hydride battery. The maximum fuel consumption of gasoline engine vehicles is 15.1km / liter in WLTC mode, and 23.4km / liter for hybrid vehicles.
The driving support system is equipped with the latest "Toyota Safety Sense," which doubles the detection range of the sensor. Safety performance has been greatly enhanced. "Pre-crash safety" can detect not only vehicles but also day and night pedestrians, cyclists, and daytime motorcycles. It also has collision avoidance support at intersections and emergency steering support. "Radar cruise control" with all vehicle speed tracking function, "Proactive driving assist" that anticipates risks such as pedestrian crossing and jumping out and supports steering / braking operation, "Proactive driving assist" that supports lane change only by operating the turn signal "Lane change assist" and "safe disembarkation assist" to prevent accidents with approaching vehicles from behind when getting off from the sliding door are also available. The function that enables remote parking and delivery from outside the vehicle using a smartphone was also adopted for the first time as a Toyota vehicle.
There are 7 body colors including "White Pearl Crystal Shine" for Noah and 6 colors including "Massive Gray" for Voxy.
If you are looking for any Japanese vehicles , cars and truck and bus , please check our list.
The list of EVERYCAR.jp (* Click to open).
It's for SDGs Goal number 17 "PARTNERSHIP FOR THE GOALS"
Let's work together !!
Best regards