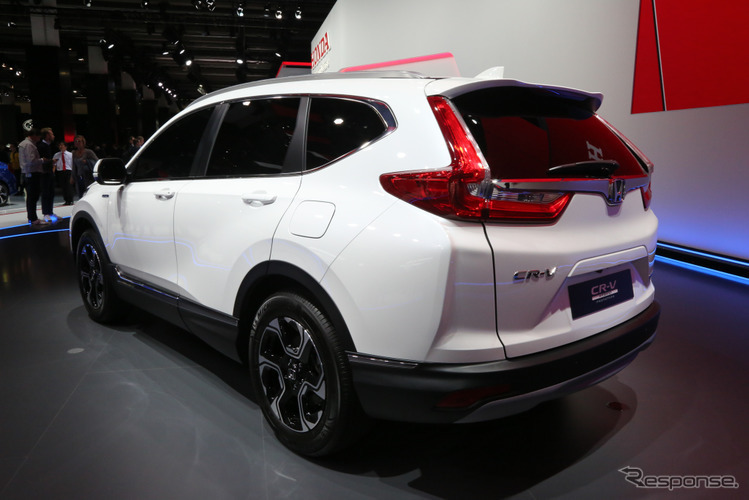 That CR-V is already the fifth generation. Now it sells nearly 15% of Honda's worldwide sales volume, annual sales of 760,000. The fifth generation was launched in North America in the winter of 2016, traveled around Asia, China, Europe and came on sale in Japan at the end on August 30.
The price ranges from 3,230,280 yen to 4,360,1040 yen. Two types of gasoline 1.5L turbo engine and 2.0L hybrid (HV) are prepared, HV will be released in November. If you choose an engine car with three row seats, it will be a maximum of seven riders. Honda sensing of safe driving support system and genuine Navi "Internavi" reputed for its usability became standard equipment as well. "I am pleased to be able to introduce CR-V grown in the world to Japan," I am glad, "said Takaaki Nagashi, development manager.
Actually, CR - V has disappeared for nearly two years since September 2016 in the Japanese market. CR-V had many strong fans from the first generation, but as the second, third and fourth generations and generations passed, the size of the aircraft aimed at receiving in the US market, etc. advanced and the sales were able to be increased in the world market, It has become impossible to fight in the domestic market. Hidden Honda withdrew CR - V from the Japanese market and decided to focus on the compact SUV "Wesel" which had been a big hit since the release in 2013. The average monthly sales of the CR-V 4th generation in the first half of 2016 (January to June), which was the end of the model, was about 70 units on average.
It is the 2L hybrid that accounts for about 45% of the pre-order of the new CR-V. I introduced a hybrid system of Honda full body called "i-MMD" equipped with two motors for power generation and driving. Accord, Odyssey, Step Wagon also have the same power train. Mr. Naokichi Dootokura, who is responsible for the development of the powertrain, said, "Of the three types of hybrids Honda has, the highest potential is fuel efficiency and driving performance." It is possible to switch between three driving modes by using the engine and the motor properly, and if it is combined with 4WD (4 wheel drive) it will show a powerful running.
In addition, this time a new three-row seat model was added. Considering that the three row seats developed by Mazda's "CX - 8" aiming for "minivan minivan" are now hitting in the domestic market, it is also possible to expect to switch from family - owned minivan users. By providing Honda sensing as standard equipment, contribution to the safety aspect that the family member places emphasis can be expected.
If you are looking for awny Japanese vehicles , cars and truck and bus , please check our list.
The list of Japanese Used CAR , Truck and bus exporter EVERYCAR.jp (* Click to open).
We do our best work for all customer's partnership.
It's for SDGs Goal number 17 "PARTNERSHIP FOR THE GOALS"
Let's work together !!
Best Regards,