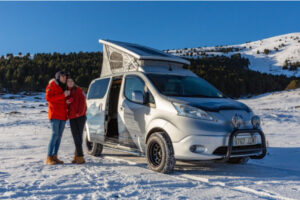 On January 20, Nissan Motor Co., Ltd. announced the "e-NV200 Winter Camper Concept," an outdoor concept model based on the light commercial vehicle (LCV) "e-NV200."
The e-NV200, which is an EV based on the commercial van "NV200", has a cruising range of 300km (JC08 mode) and has sufficient performance for short-to-medium range travel, and is active in various business scenes. This time, the e-NV200 winter camper concept produced by Nissan's European division has been expanded to Europe for the e-NV200 and the locally sold "e-NV200 Evalia" in order to express the future of zero emission mobility. Equipped with the "Nissan Camper Technology Luxury Kit". It is a special specification car that you can enjoy the winter outdoors while boasting excellent environmental performance.
The roof is equipped with solar panels so that you can spend comfortably even in cold weather, and various electric appliances such as the built-in kitchen and refrigerator can be used via the 220V battery installed. Folding beds and insulated glass are also items that enhance practicality outdoors.
Premium off-road tires are attached to the suspension. The ground clearance is also raised, and rough roads can be pushed through without worrying about mud and snow. In addition, the reinforced steel bar on the front is equipped with twin spotlights to improve visibility at night and achieve a wild look. In addition, genuine European accessories such as front and rear mudguards, door entry guards, sidebars, and rubber mats are also installed, allowing you to use them without worrying about dirt.
The power train uses the electrification technology cultivated by Nissan. In addition to optimized output and cruising range, it provides quick acceleration and powerful torque. In B mode and eco mode, the regenerative braking is strengthened and the energy efficiency is further improved.
The e-NV200 / winter camper concept that shows a new direction for the electric model. By the way, the e-NV200 was previously sold mainly for commercial use in Japan, but it was suspended in October 2019. However, there is no doubt that EVs will increase, and there is a possibility that models incorporating proposals such as this concept car will appear.
If you are looking for awny Japanese vehicles , cars and truck and bus , please check our list.
The list of Japanese Used CAR , Truck and bus exporter EVERYCAR.jp (* Click to open).
https://www.everycar.jp/
We do our best work for all customer's partnership.
It's for SDGs Goal number 17 "PARTNERSHIP FOR THE GOALS"
Let's work together !!
Best Regards,
YUI