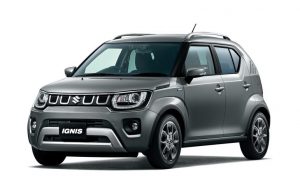 On February 4, 2020, Suzuki made some improvements to the Ignis compact car. The new model "Hybrid MF" was launched, and sales began on the same day.
In this improvement, the exterior design was changed to make it more powerful.
New features include a front grille with a 5-slot motif and a rear bumper of the same color as the body.

In the interior, the design of the seat skin and the meter panel has been changed,
and the center console and inside door grips have been accentuated with a new color blue and gunmetal.
The equipment is also being strengthened. All vehicles are equipped
with preventive safety devices such as "Dual Camera Brake Support", an auto light system, and a passenger seat heater as standard.
All grades except the Hybrid MG have passenger side seat pockets.
YUI