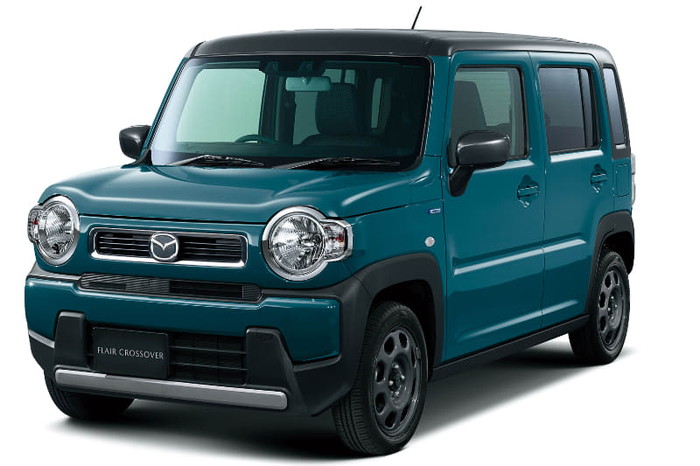 Mazda will make a full model change of the "flare crossover" and release it on February 27, 2020.
The exterior design is a keep concept, and the hustler headlights have the same roundness as the current one. It combines a unique design that can be seen as a hustler at a glance with the toughness and power that pursued functionality through inspiration from outdoor items.
The height of the bonnet has been increased by 20mm, resulting in a rounded but slightly thicker design.
Compared to the predecessor model, the wheelbase is extended by 35 mm to secure the foot space for the rear passengers, and the front seats are expanded by 30 mm between the left and right occupants to achieve a comfortable and spacious interior space. While extending, it maintained good maneuverability with a minimum turning radius of 4.6 m.
The texture of the interior is quite high, giving the impression of sporty outdoors. In particular, the shape of the dashboard and the surroundings of the navigation system are characteristic. The meter uses a "color LCD meter". The omnidirectional monitor adopts a "3D view" that allows you to check the surroundings three-dimensionally. (Manufacturer option) The "high attenuation mastic sealer" that reduces booming noise and rain noise is adopted for the first time in a mini car, and the noise reduction is enhanced by optimally arranging soundproofing materials and soundproofing materials.
Adopting the next-generation lightweight platform "Hartect", the frame and main parts are completely renewed to achieve high rigidity and light weight. By adopting the next-generation lightweight platform, the interior space can be expanded compared to the current model.
Equipped with "dual camera brake support". It falls under the category of "Sapoca S-Wide" promoted by the Ministry of Economy, Trade and Industry and the Ministry of Land, Infrastructure, Transport and Tourism.