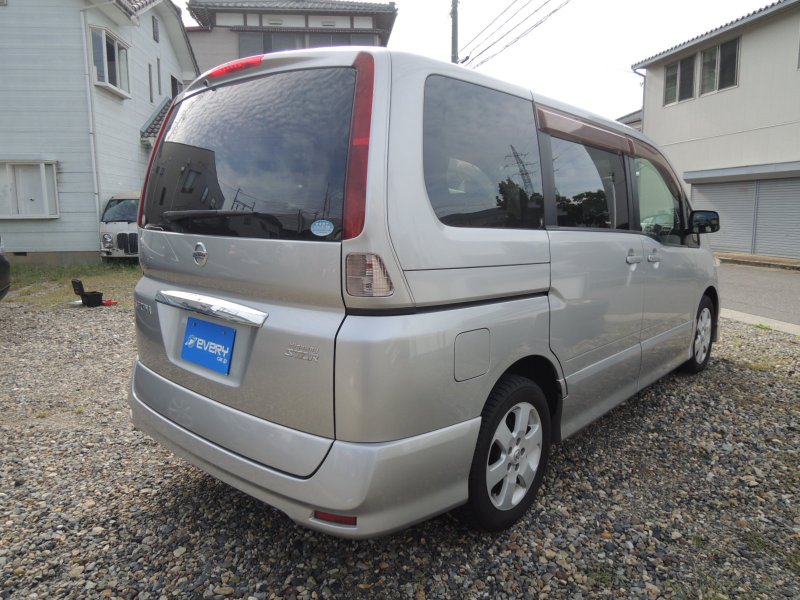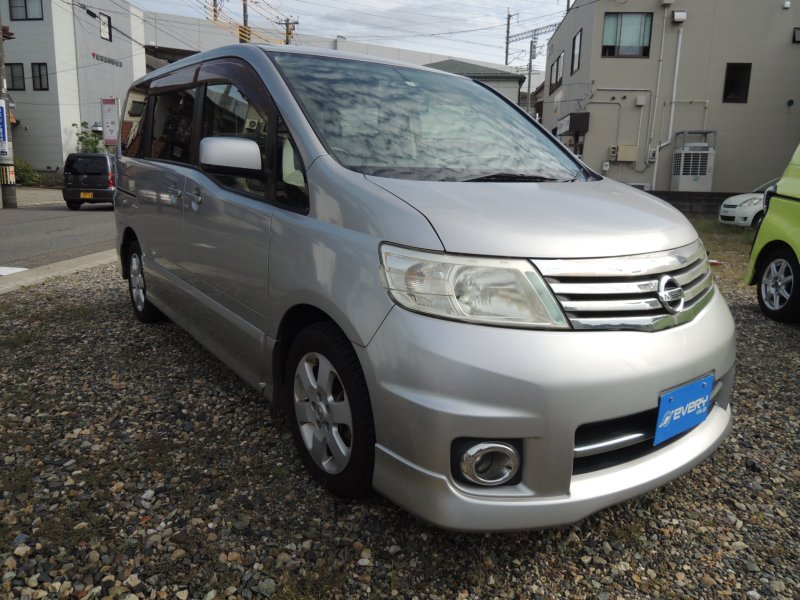 We bought Nissan Serena from a customer near our office. It is a very beautiful car with both exterior and interior. This car has been very cared for by its owner. Equipment such as TV and aluminum wheels is also substantial.
https://www.everycar.jp/nissan/serena/2007/5444705/
The SERENA is a minivan manufactured and sold by Nissan Motor Co., Ltd. Its roots go back to the Datsun Sunny Cab / Nissan Cherry Cab, which appeared between 1969 and 1970. There was also a commercial model "Cargo" in the first generation. After the C25 type, it is OEM-supplied to Suzuki as "Randy". In addition, this section also describes the first (C23 type) early type "Vanette Serena" that appeared as a successor to Vanette.
3rd generation C25 type (2005-2010)
The second full model change. The SHIFT_word "shifts the possibilities of SHIFT_capacity 1BOX."
Like the Lafesta, it uses the same Nissan-C platform as Renault. From this model, the rear brake will be changed from the conventional drum brake to the disc brake, the suspension will be the strut on the front, the 2WD (FF) on the rear will be the torsion beam, and the 4WD will be multi-link. The shift lever has been changed to an instrument panel type, similar to competing models. The wheelbase of other companies in the same class has reached the 2,800mm range, but the Serena is the longest in its class at 2,860mm.
The engine is only 2.0L and replaced with MR20DE type. By combining it with the "Extronic CVT", it achieved sharp response, smooth acceleration, and low fuel consumption, achieving the "2010 fuel consumption standard + 5%".
The grade system is organized into 4 grades: "20S", "20RS", "20G", and "20RX". The front grille differs depending on the grade. The "20S" and "20G" have a wide and neat design with plating, and the "20RS" and "20RX" have a smooth body color design with the bumper and hood. At the same time, the custom car "Rider" handled by Autech Japan has also undergone a full model change, and a smoke-plated front grille, a special tuning suspension, and a black-based interior have been adopted, and the "Rider S" with a more sporty feel has been added. .. The refueling port was returned to the right side again.
Reset the "Highway Star" that was once abolished at the time of full model change. It is equipped with a chrome-plated exclusive front grille, exclusive aero parts, and aluminum wheels (16 inches for 2WD vehicles and 15 inches for 4WD vehicles). Since this specification is equipped with a crowding panel, the total width exceeds 1.7m, and 3 numbers are registered. Four body colors are available, including the exclusive "Deep Cassis Pearl" for this specification. At the same time, the body color of the existing grade has been replaced, and "Fountain Blue Pearl Metallic" has been added in place of the conventional "Airblue Pearl Metallic".