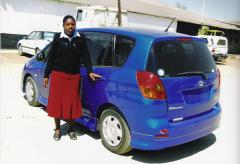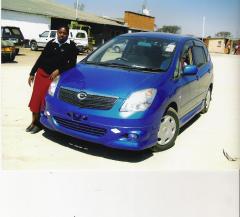 The "Toyota Corolla Spacio" was a small high wagon that was introduced in 1997 as a derivative of the "Corolla" and was available in two rows of four seats and three rows of six seats, with a 1.6-liter straight-4 engine and 4-speed AT. At the same time, a 2-row 5-seater was added.
The second generation, introduced in May 2001, had a slightly larger body. Based on the development concept of NCV (New Century Value), which pursues car value in the new century, the new tall 2-row Corolla Spacio features "Relax & Flex" 5+2 seat packaging, a dynamic mono-form design and nimble driving performance.
It is a "big and usable compact" that targets the families of the new century.
The engine is a 1.8L straight-4 DOHC unit with continuously variable valve timing and a 1.5L straight-4 DOHC unit. They are certified as "good-low emission" vehicles.
It drives all four wheels via a 4AT transmission located in the instrument panel, either front-wheel or V-flex full-time type.
The 1.5-liter FWD model is available in the basic V, the well-equipped X and the luxurious X G EDITION, while the 1.8-liter FWD model is available in the X, X G EDITION and the sporty S AEROTOURER. 4WD models are only available on the 1.8-liter model and are available in all grades.
The Corolla Rumion, which was discontinued in June 2007 and introduced four months later, is the true successor to the Corolla Spacio Corolla Rumion.
The Corolla Spacio Corolla Rumion is a very popular Toyota car in East African countries like Zambia, Uganda, Tanzania and Mozambique.
Many used cars are exported from Japan every month.
---
From: Lontiya C Banda
Date: 2010/8/23
Subject: Fwd: LONTIYA & HER TOYOTA COROLLA SPACIO IN ZAMBIA FROM EVERY CO., LTD, JAPAN
Dear Watabe,
How are you?
This is Lontiya Banda with the toyota corolla spacio on arrival in Zambia on 23-July-2010 from Every Co., Ltd, Japan. The car is very neat and intact, nothing missed out of the car.
Thank very much for your good service.
Many thanks,
Lontiya
——————-
If you are looking for any Japanese vehicles , cars and truck and bus , please check our list.
The list of Japanese Used CAR , Truck and bus exporter EVERYCAR.jp (* Click to open).
We do our best work for all customer's partnership.
It's for SDGs Goal number 17 "PARTNERSHIP FOR THE GOALS"
Let's work together !!