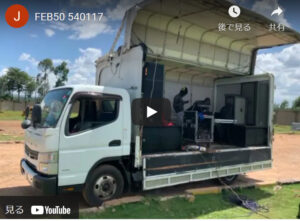 The customer sent the photo and reviews of the MITSUBISHI CANTER which he bought from us.
This MITSUBISHI CANTER assembles a music system inside the box and runs a club on the street.
I was very surprised because I never know that this MITSUBISHI CANTER would be used in this way.
Before it was exported from Japan, it was a truck that carried goods, but in Kenya, I am very happy that it will play an important role in entertainment for young people.
This is exactly "Customer success" !!
In Kenya, cars can only be imported within 7 years of manufacture. Therefore, searching for a vehicle for Kenya requires more knowledge, but since we have been exporting cars to Kenya since 2006, we can grasp the import restrictions of Kenya in real time, and we have strong cooperation. Because the distributors with are also local, we can find a car that fits the Kenyan market faster and faster than other companies.
With 2022 coming soon, exports to Kenya will be newer than the 2015 model.
The best model year is 2015.
We are a professional used vehicle exporter for Kenya.
So if you are interested to buy MITSUBISHI CANTER , please check our list.
The stock list of MITSUBISHI CANTER (*Click to open the page)
It's for SDGs Goal number 17 "PARTNERSHIP FOR THE GOALS"
Work Together !!
CEO Yuichiro Watabe
———————-
Japanese Used Truck and Bus , and Cars exporter / EVERYCAR.jp
"EVERY's MISSION – To make smile in all over the world"
EVERY CO LTD since 2006 year
E-mail : y-watabe@everycar.jp
Mobile and Whatsapp : +819072259491