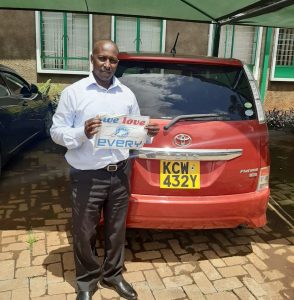 This photo is from our customer who bought TOYOTA ISIS from our company.
2012year TOYOTA ISIS ZGM15
This is his comment.
Thank you very much Every Co. I got the vehicle in good condition. The car is very clean and the performance is great. I drove for over 500km from Mombasa to Nairobi and the engine performance and the stability is great. Attached herewith please find the photos with local registration.Thank you once again.
TOYOTA ISIS was planned and developed as a Japanese car, and had a left-right asymmetric body designed exclusively for left-hand traffic. It was a brother car of Wish. Generally, it is often introduced as a successor to Gaia, but Toyota denies that it is not a successor to Gaia but a completely new minivan. Incorporates ideas cultivated in Raum everywhere.
The engine is DOHC's 2,000cc 1AZ-FSE (D-4) and 1,800cc 1ZZ-FE, and the drive type is FF and active torque control 4WD. The 2,000cc transmission is a continuously variable transmission Super CVT-i, the 1,800cc is a Super ECT (4-speed AT), and only the 2,000cc "Platana" is equipped with a 7-speed sports sequential shiftmatic.
If you are looking for awny Japanese vehicles , cars and truck and bus , please check our list.
The list of Japanese Used CAR , Truck and bus exporter EVERYCAR.jp (* Click to open).
We do our best work for all customer's partnership.
It's for SDGs Goal number 17 "PARTNERSHIP FOR THE GOALS"
Let's work together !!
Best Regards,