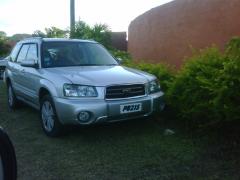 This is a 2006 Airbreak model of the second generation Subaru Forester.
Based on the 2.0X grade, it comes with beige cloth/leather seats, a Fresh Pack and an HDD navigation system as standard.
The engines installed are the longitudinally mounted Subaru BOXER (Boxer: horizontally opposed engine) layout: 2-litre inline four-cylinder SOHC (regular petrol: 140 bhp) and DOHC turbo with variable valve timing (premium petrol: 220 bhp) and 2.5-litre DOHC turbo with variable valve timing (265 bhp). All models are available with three drive systems: full-time 4WD, VTD-AWD [unequal & variable torque distribution electronically controlled AWD], Active Torque Split AWD or centre differential AWD with viscous LSD. There are base 2.0X and 2.0XS models, the more outdoorsy L.L. Bean Edition and the 2.0XT with 2-litre turbocharged engine. The on-road CROSS SPORTS range consists of two models: the 2L SOHC Cross Sport 2.0i and the 2L DOHC Turbo Cross Sport 2.0T.
The SG models of the Subaru Forester are available in the following grades, each of which has its own characteristics and should be considered when making a purchase.
[EJ20 Turbo Engine]
XT
Cross Sport
Cross Sport 2.0T
Cross Sport S Edition
[EJ20 NA Engine]
X
X 20
Cross Sport 2.0i
EJ25 Turbo engine
STI version
If you are looking for SUBARU FORESTER, please check our list.
The list of SUBARU FORESTER (*click to open the stock list page)

---
[Customer's Review]
From: "Donald Dorius"
Subject: Re: Thank you for your comments — Every Co, Ltd
Date: Thu, 17 Dec 2009
Hello
Yet again, my customers are VERY happy with their purchase. Just wanted to say thank you for selecting the BEST quality cars for me.
My customer's exact words for the Subaru Forester
"thank you Donald, I am 100% satisfied. I am VERY happy with the quality"
Hope to do more business with you in the new year.
Thanks
DD
From: "Donald Dorius"(Saint Lucia)
Subject: Fw: IMG00023-20091220-1701.jpg
Date: Sun, 20 Dec 2009 18:14:02 -0400
—– as promised, see photo of my customer's vehicle. See how nice it
looks.
Thanks
Donald
---
We do our best work for all customer's partnership.
It's for SDGs Goal number 17 "PARTNERSHIP FOR THE GOALS"
Let's work together !!