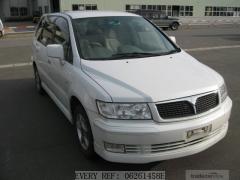 The Mitsubishi Chario Grandis was launched in 1997. To put it bluntly, it was a three-row minivan with hinged doors. It was a rare model at the time, but it had a luxurious feel to it.
Although it was a rival to the Honda Odyssey and Toyota Ipsum, it boasted an interior quality that set it apart from its rivals in terms of luxury.
The dimensions of the Chariot Grandis were 4585 mm (overall length) x 1775 mm (overall width) x 1650 mm (overall height).
Seating arrangements were also versatile for the time, with the six-seater having fully flat second and third rows and a removable third row, and the seven-seater having fully flat first and second rows and second and third rows.
A key feature in terms of functionality was the 2.4-litre version of the GDI direct injection engine, which Mitsubishi Motors became the world's first volume manufacturer to install in the 8th generation Galant and Legnum in 1996.
It was very popular in Japan, but production was discontinued in 2003 and today there are very few of them on the used car market.
————————–
From: Ringlen Wolphagen
Date: 31/5/2010
Subject: Receipt of car
Dear Director Watabe:
Special greetings to you and all!
Please be advised that Kyowa Cattleya arrived in Pohnpei last week on the 29th of May and just today I was able to collect the Mitsubishi Chariot from our port and hand it over to the new owner, Mr Allan Barnard.
————————–
If you are looking for any Japanese vehicles , cars and truck and bus , please check our list.
The list of Japanese Used CAR , Truck and bus exporter EVERYCAR.jp (* Click to open).
We do our best work for all customer's partnership.
It's for SDGs Goal number 17 "PARTNERSHIP FOR THE GOALS"
Let's work together !!