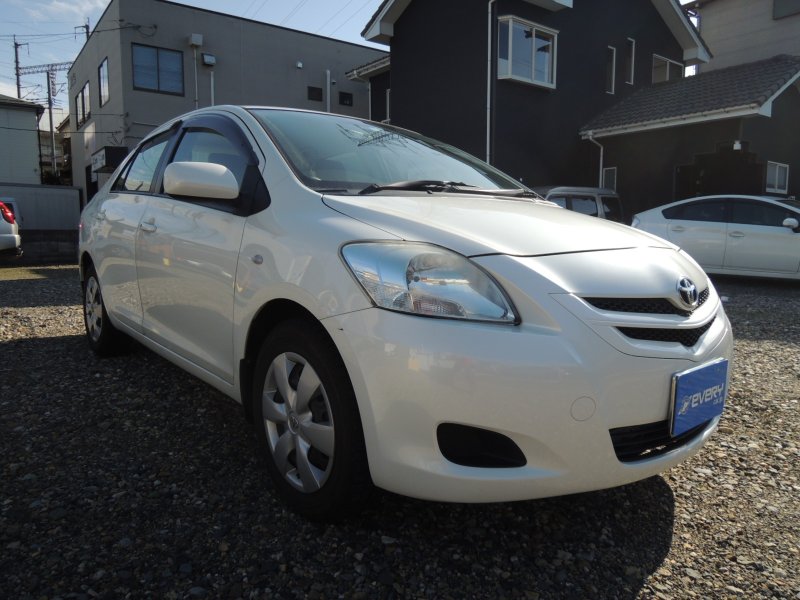 This is our new stock from local customer. G grade and very low mileage. The running condition is very good. The price is much lower than auction. We are waiting your inquiry.
BELTA is a small 4-door sedan manufactured and sold by Toyota Motor Corporation in Japan. The car name is named after the Italian word for "beautiful" or "beautiful person".
It is the successor to the Platts and is based on the second-generation Vitz. The basic design and specifications such as the platform are shared by Vitz like Platts, but the special design and taste different from Vitz are clearer than Platts, the extension of the wheelbase, the style of the body shape and low center of gravity, the interior design, etc. The specifications have greatly enhanced the uniqueness of the sedan.
The engine and transmission are 1.0L / 1KR-FE engine and 1.3L / 2SZ-FE engine for FF vehicles, and the transmission is equipped with an automatic continuously variable transmission Super CVT-i. The 1.3L engine specification 4WD model is equipped with a 2NZ-FE engine and is combined with the 4-speed AT Super ECT.
Outside Japan, it was sold as the "Yaris Sedan" in North America, South America, Oceania, etc., and as the "Vios (second generation)" in China and Southeast Asia. The Yaris hatchback (Japanese name Vitz) for North America was remodeled, and the sales for South America were discontinued due to the introduction and deployment of Etios, but the Yaris Sedan for Oceania and the Vios (2nd generation) for China and Southeast Asia It was still produced and sold after the model change of the Yaris hatchback.
The Belta has the practical and economical functionality of the Vitz model and the quality of a sedan. Adopting an analog center meter layout, the wheelbase is extended by 90mm from Vitz to 2,550mm, which is the same value as Ractis, and it is equipped with an optimized interior space and a large capacity trunk. The Cd value of the body achieved 0.29, which is the same value as the Platts and the 9th generation Corolla sedan (E120 type).
If you are looking for any Japanese vehicles , cars and truck and bus , please check our list.
The list of Japanese Used CAR , Truck and bus exporter EVERYCAR.jp (* Click to open).
We do our best work for all customer's partnership.
It's for SDGs Goal number 17 "PARTNERSHIP FOR THE GOALS"
Let's work together !!
Best Regards,