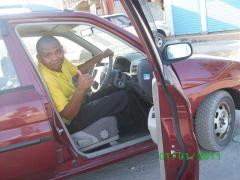 MAZDA DEMIO is a compact car sold by Mazda from 1996 to 2019. The current model was introduced in 2014 and is the fourth generation.
Used MAZDA DEMIO are traded at relatively low prices in Japan and can be exported to other countries at low prices.
We have received many orders from female users in East African countries.
The first and second generations of the MAZDA DEMIO were characterized by a relatively tall, boxy silhouette, but the third generation changed course and introduced a sportier, more streamlined design. The current 4th generation model adopts Mazda's common KODO design concept, KODO – Soul of Motion, and shares the same face design as the company's mainstay models such as the CX-5 and Atenza.
This customer's MAZDA DEMIO was a first-generation model that was developed and launched in a short period of time, using existing components to follow the minivan boom of the time. It was a simple small car with two rows of seats and a large cargo area, while keeping the overall length within the compact car category. The seats could be completely flattened, and when the cargo area was expanded, it had a capacity that exceeded that of its class. The main focus of the design was to maximize space and practicality even in a compact car.
—————————
Hi Manabu,
I sicerely hope and trust that you are fine.
I am fine and very happy to let you know in the final analysis of this deal that I received the car.
As you said, the car is in perfect condition.
I have liked it because its beauty exceeds the way it was viewed on internet. Well done.
Please continue offering quality service to us your clients.
The other thing is just an advice that you improve on delivery. Let it be quick.
See attached photoes I took when I received the car at the gate in Dar-es-Salaam.
I will send some more when I have finally cleared the car from the Revenue collection authority (ZRA).
Thank you,
Christian Bwalya.
—————————
If you are looking for any Japanese vehicles , cars and truck and bus , please check our list.
The list of EVERYCAR.jp (* Click to open).
It's for SDGs Goal number 17 "PARTNERSHIP FOR THE GOALS"
Let's work together !!
Best regards