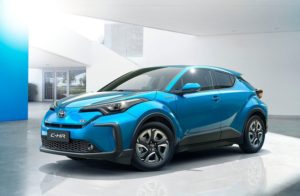 On April 16, 2019, Toyota Motors unveiled the world premiere of the C-HR and IZOA electric vehicles (EVs) at the Shanghai International Motor Show in China.

The C-HR and IZOA EVs are the first Toyota brand EVs to be launched in China, and will be launched in 2020.
Detailed specifications have not been announced.
IZOA is a sister car of C-HR introduced in China and is sold separately for each channel handled.
Beginning with these two models, Toyota has announced that it will develop more than 10 EVs globally in the early 2020s, and aims to sell more than 5.5 million electric vehicles globally in 2030 I have to.
If you are looking for awny Japanese vehicles , cars and truck and bus , please check our list.
The list of Japanese Used CAR , Truck and bus exporter EVERYCAR.jp (* Click to open).
We do our best work for all customer's partnership.
It's for SDGs Goal number 17 "PARTNERSHIP FOR THE GOALS"
Let's work together !!
Best Regards,
YUI