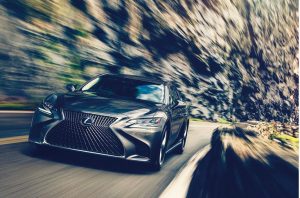 Toyota Motor has partially improved the Lexus brand flagship sedan "LS" and started sales.
This improvement mainly aims to improve ride comfort and quietness.
The FR independent shock absorber uses the same independent pressure expansion orifice as the 4WD vehicle.

Riding comfort has been improved by expanding the variable damping force range
and reducing friction.
In addition, the reinforcement layer structure of run-flat tires was optimized,
and the AVS and rear suspension mount were tuned to improve the ride comfort unique to LS.
In the hybrid model, the battery assist amount during acceleration was increased
and the accelerator characteristics were changed to enhance the driving force and quietness.
The executives have adopted the enter mode with the foot space on the left rear seat and the front view,
and the rear multi-operation panel with improved operability to enhance the comfort of the rear seat.
If you are looking for awny Japanese vehicles , cars and truck and bus , please check our list.
The list of Japanese Used CAR , Truck and bus exporter EVERYCAR.jp (* Click to open).
We do our best work for all customer's partnership.
It's for SDGs Goal number 17 "PARTNERSHIP FOR THE GOALS"
Let's work together !!
Best Regards,
YUI