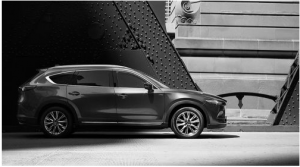 Mazda will be the company's top model on July 25, 2017
We unveiled exterior and exterior design of the new crossover SUV "CX-8" for the first time.

The total length of CX – 8 is about 300 mm longer than CX – 5.
Looking at the image released this time, it is an impression that
it is a design close to CX – 5 "CX – 5 's total length has been extended as it is".
Mazda withdrawing from the minivan is expected to sell as a substitute for minivans CX – 8.
It may be a genre of a new car that you can spend relaxing indoors.
I am looking forward to further announcement.
"CX-8" is the latest model of Mazda's new generation product group,
It will be the top model in the company's SUV lineup for the domestic market.
Mazda's new proposal aimed at customers who are looking for quality with multi-passenger boarding.
As for the design, with the concept of "TIMELESS EDGY (Timeless Edge)",
Aiming for the advancement that continues to stimulate the customer's
sensitivity even after a long time,
Mazda's design theme "Soul movement – Soul of Motion" has been deepened to a higher dimension.
As the top SUV in the country, sticking to the style and texture,
the interior is also making color and material one by one.
Mazda will continue to evolve in the future,
By delivering pleasure to all customers and excellent environmental safety performance,
We aim to be a brand with special bonds with customers.
YUI