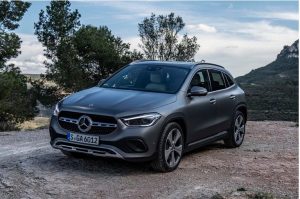 On April 28, 2020, the new "Mercedes-Benz GLA" was announced
at the end of April of the same year.
The new Mercedes-Benz GLA is the second generation model.

The body size is full length × width × height = 4410 × 1834 × 1611 mm, and compared to the previous generation,
which was positioned as a crossover, the roof height has increased by 100 mm or more, making it more SUV-like.
The bonnet power dome, the wheel house that holds 20-inch wheels, and the side windows that resemble a coupe are also characteristic details.
The interior was designed to communicate with other Mercedes-Benz cars, such as a turbine-like air conditioner outlet
and a meter panel with a large display connected horizontally.
The infotainment system "MBUX" that enables voice operation is standard equipment.
The hip point of the front seats is set to be 97mm higher than the predecessor, making the interior of the car more like an SUV.
The new GLA will be produced in Rastatt in Germany and Beijing in China.
Sales have started in Europe, and delivery is expected to start soon in North America and China.
YUI