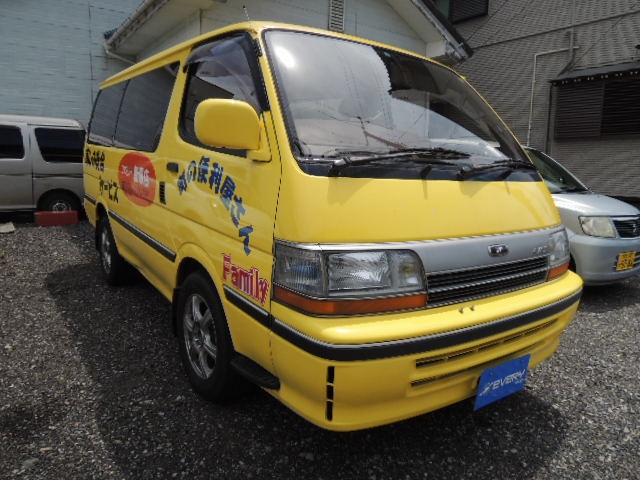 It is a Hiace wagon of the fourth generation 100 series. This car was used in the company in the city. Alloy Wheel, Yellow body with many Japanese letter. It is very cool car, I would definitely like to use it overseas.
From this model, the fuel filler port changed from the conventional right to the left. In addition, all the cars were shifted to the floor, the parking brake was also shifted from the stick type under the dashboard to the floor between the front seats, changed to a lever type with a lock release button at the top of the grip. The engine was reorganized, and the 2.0L gasoline engine was changed from the 3Y type to the newly developed 1RZ-E (Van Commuter is 1RZ) type. A 2RZ-E type of 2.4L gasoline engine is newly added. The 4WD car abolishes gasoline engine and unifies it to 3L type of 2.8L diesel engine.
At the same time, the wagon was given interior and exterior and equipment to further enhance the style as "high class one box", and the interior decoration of the highest grade "Super Custom Limited" became gorgeous and reminiscent of the then-like Mark II and crown, Profitability further increased due to price increases. Also, from this generation power slide door was set for some grade.
If you are looking for awny Japanese vehicles , cars and truck and bus , please check our list.
The list of Japanese Used CAR , Truck and bus exporter EVERYCAR.jp (* Click to open).
We do our best work for all customer's partnership.
It's for SDGs Goal number 17 "PARTNERSHIP FOR THE GOALS"
Let's work together !!
Best Regards,