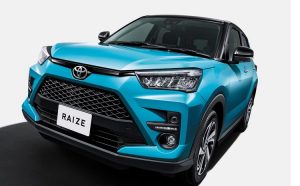 On November 5, 2019, Toyota Motor announced the new small SUV "RAIZE" and started selling the same day.
RAIZE is a 5-number size compact model that Toyota sells with Daihatsu's OEM supply, and is a sister model of the new Daihatsu Rocky.

Its features are basically the same as those of the base car, such as a compact body with a total length of less than 4 meters, a spacious interior space at the top of its class, and an enhanced driving support system including adaptive cruise control for all vehicle speeds.
The difference is mainly in the design, and the front mask of a powerful design that leads to Toyota's middle size SUV "RAV4" is adopted for the rise. For all 11 types of body colors, Rocky has a "Compano Red" that is not available for selection, but "Turquoise Blue Mica Metallic" is available as a dedicated color for the RAIZE.
YUI