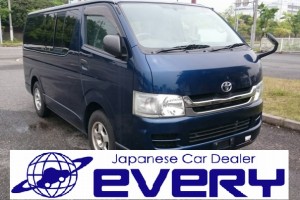 KDH201V and KDH206V are model of HIACE VAN and REGIUS ACE VAN.
(KDH201K and 206K are high roof model)
Year : since 2007year
Displacement : 3,000cc
Grade : DX / Super GL
Drive : 2WD(KDH201) / 4WD(KDH206)
Engine : 1KD-FTV / Diesel
Size : (L)4695×(W)1695×(H)2245mm
Fuel Consumption : 11-13km / 1 litter petrol
This model is very popular in Kenya , Tanzania , Myanmar , Antigua , St Vincent , and other many countries.
HIACEVAN is king of "VAN" in the world and this is latest deisel model.
Therefore , if you buy it , you can use so long time.
And if you will be making mainternance per half a year , you can used over 500,000km !
Because 1KD engine is very very strong.
Regarding Market price in Japan ,
2WD model is more expensive than 4WD because 2WD's tax of some countries regulation are lower than 4WD's. And 2WD has big power too.
But of course both model is very recommended.
They are used by Taxi or bus and transport business in many countries.
So you can make big profit for their business.
If you are interested to buy Used HIACE VAN KDH201 or KDH206 , we can find best one for you immediately.
Please check our list.
List of KDH201 :
List of KDH206 :
If you are looking for any Japanese vehicles , cars and truck and bus , please check our list.
The list of Japanese Used CAR , Truck and bus exporter EVERYCAR.jp (* Click to open).
We do our best work for all customer's partnership.
It's for SDGs Goal number 17 "PARTNERSHIP FOR THE GOALS"
Let's work together !!
Best Regards,