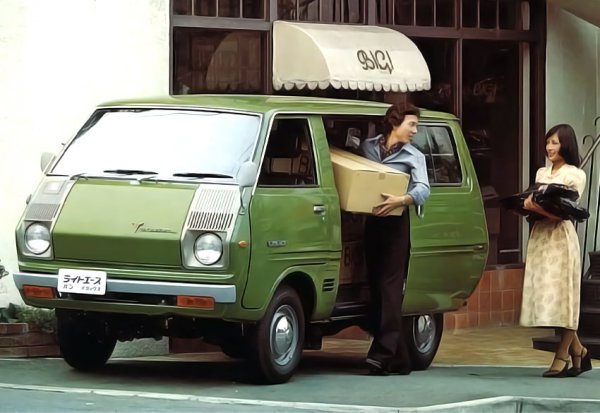 1970, a truck/commercial van as an advanced version of a light truck/mini-ace. It has been 5 years and 50 years since debuting in 3 variations of riding wagons.
I would like to look back on the history of such Light Ace along with the successive models, and also look back on the "trajectory" of other models bearing the name of "Ace".
The first Light Ace appeared in November 1970 (truck). It debuted as a high-end model of the Mini Ace, the cabover model of the first Publica. The following wagon model was added in February 1971.
It was the second generation that appeared in 1979 that became the beginning of the one-box wagon boom in Toyota. After that, the suspension and steering were improved to improve running stability and riding comfort centering on the wagon, and more money was added.
The big change was in the fourth generation "Light Ace Noah" era when the engine was moved forward from the conventional cab over and it became a semi cab over. It became popular with both Town Ace and played a part in the RV boom with rivals such as Serena and Step Wagon.
Even with the glorious Light Ace, the shadow gradually fades, probably because there was no wagon set for the fifth generation that appeared in February 2008.
Then, on June 22, this year, the sales of Town Ace were integrated into Town Ace with Maichen. The 50-year history of Liteace is over.
If you are looking any LITEACE seriese , please check our lists.
The list of TOYOTA LITEACE VAN (*Click to open the page)
The list of TOYOTA LITEACE TRUCK (*Click to open the page)
The list of TOYOTA LITEACE NOAH(*Click to open the page)
Best regards,
CEO Watabe
"EVERY's MISSION – To make smile in all over the world"
EVERY CO LTD since 2006 year
CEO Yuichiro Watabe / y-watabe@everycar.jp
Mobile and Whatsapp :+819072259491