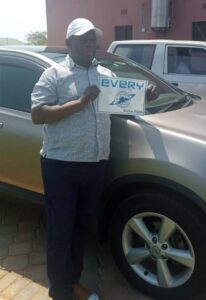 The customer sent the photo and reviews of the NISSAN DUALIS which he bought from EVERYCAR.jp
2009Year , 20G 4WD , 59000km
Automatic , Petrol , DBA-KNJ10
This is first model DUALIS.
The first model original DUALIS is still popular all over the world, and every day we receive requests from customers all over the world.
It was released in 2007 is a new middle-sized crossover SUV developed mainly in Europe with the concept of "smart & compact cruiser". The unique exterior design that fuses the light and compact upper body with the dynamic and secure lower body that is typical of an SUV is impressive. In addition, the development targeting the European market, where driving conditions are stricter, has improved the basic driving performance such as "running," "turning," and "stopping," which sets it apart from conventional SUVs. Moreover, stable steering performance has been achieved. The Qashqai has been discontinued in Japan with this model alone, but in Europe it is a very popular model under the model name "Qashqai".
The engine is only the MR20DE gasoline engine that emphasizes torque in the middle and low rev range, and the transmission is an Extronic CVT (with 6-speed manual mode), and 2WD and 4WD are set. There are two grades, "20G" and "20S", and the 20G is equipped with a glass roof as standard. The "20S" will be equipped with a 16-inch wheel cover, and the "20G" will be equipped with a 17-inch aluminum wheel.
The front strut type and rear multi-link type suspensions are the first Japanese cars to be combined with a high-speed control shock absorber manufactured by Sachs, which has excellent damping force characteristics.
Recently, we have received many orders from East Africa areas such as Tanzania and Uganda, and Caribbean countries.
Since many units are used in Japan, it can be purchased at a lower price than Toyota's SUV.
There are many USED NISSAN DUALIS in all Japanese market now.
If you are looking for NISSAN DUALIS , please check our list.
The list of NISSAN DUALIS (* Click to open).
We do our best work for all customer's partnership.
It's for SDGs Goal number 17 "PARTNERSHIP FOR THE GOALS"
Let's work together !!
Best Regards,