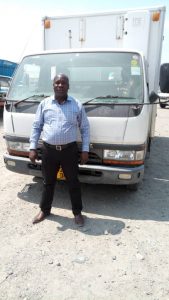 This is the customer's photo who bought the MITSUBISHI CANTER TRUCK
1999Year / FE667EV / 4D33 engine
The 4D series engine of MITSUBISHI is one of most popular engine.
Especially 4D32 engine and 4D33 engine are pupular.
But there is no engine model information in our stock page , so please check the below inormation if you are looking for 4D32 or 4D33 engine model.
Chassis model for 4D32 engine :
FE305B / FE315B / FE325 / FE335 / FE355E / FE425E / FE435 / FE445 / FG335 etc
Chassis model for 4D33 engine :
FE637 / FE63CE / FE667E / FE70CB / FE71CB / FE72C / FE73C / FE82C / FE83CE / FG327B / FG337 / FE437E / FG507B / FG537B etc
This customer was looking for more some same similar CANTER which has 4D33 engine.
If you are looking for any CANTER which has 4D32 or 4D33 or any other MITSUBISHI CANTER , please let us know.
And there are many MITSUBISHI CANTER in our list now.
[List of all MITSUBISHI CANTER TRUCK] (*Click to open)
We do our best work for all customer's partnership.
It's for SDGs Goal number 17 "PARTNERSHIP FOR THE GOALS"
Let's work together !!
Thank you so much.
Best regards,
CEO Watabe