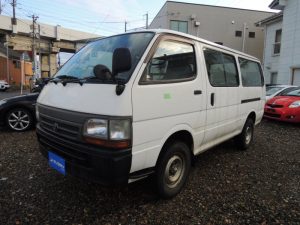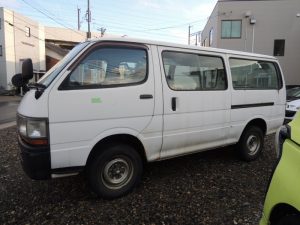 Toyota Hiace Van is a cab-over type commercial vehicle and passenger vehicle that first appeared in 1967. In the past, short wheelbases (standard bodies) and trucks were also available, but now they have disappeared, leaving only long, super long, wagons, light vans, and commuters (microbuses). Nissan Caravan has been a long-standing competitor.
Although the price is somewhat high, it is designed to withstand over 1 million km of overrun and has high performance as a freight car such as engine power and loading capacity, and it is widely used as a small freight car / company car by many companies including the home delivery business In addition to being used, taking advantage of the characteristics of 10 passengers including drivers, passengers such as shuttle buses, shared taxis, jumbo taxis, hire, route buses, community buses, as well as ambulances, sleepers, cash transport vehicles, welfare vehicles, etc. It is also used as a base for special purpose vehicles.
4th generation H100 series (1989-2004)
1998 year Minor change centering on van commuter. The design of the front grille was changed at the same time as the apron at the bottom of the bumper became integrated with the bumper. The van commuter gasoline cars were changed to the 1998 idling regulations, and the diesel cars were changed to 3.0L 5L engines for diesel engines, complying with the 1997 long-term regulations. The Super GL has changed seating areas and standardized the driver's seat airbag and ABS, and a new gasoline 2WD model (AT only) has been added. (The driver's seat airbag and ABS are available as options for other grades.) A passenger airbag has also been added as an option.) With the exception of the DX, wagons can be operated from the passenger seat with centralized door lock.
2000 HIACE VAN https://www.everycar.jp/toyota/hiace-van/2000/1856041/
It is a car purchased directly from customers, not an auction. Good condition good price. Please contact us if you are interested.