From: WINFORD CHAVULA.T
Date: 2011/10/6
To: "Shibuya [EVERY Co.,Ltd]"
Find attached is my picture at tunduma zambia-tanzania border receiving my latest vehicle it came on time and in very good condition very new than the year of manufacture 1996
Thanks a lot for keeping the standard
Chavula (chief J )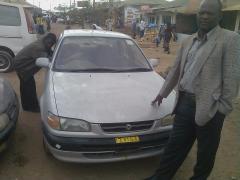 If you are looking for any Japanese vehicles , cars and truck and bus , please check our list.
The list of EVERYCAR.jp (* Click to open).
It's for SDGs Goal number 17 "PARTNERSHIP FOR THE GOALS"
Let's work together !!
Best regards