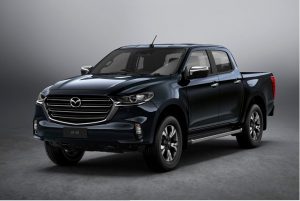 On June 17, 2020, Mazda unveiled the new pickup truck "BT-50" for the first time in the world.
Since its debut in 2006, the Mazda BT-50 has been sold mainly in Oceania, ASEAN, Central and South America, the Middle East and Africa.

The sporty, powerful design and high running performance and functionality that can be used in any scene have earned the support.
For the first time in nine years, the new model debuted as a model to be sold under the OEM supply from Isuzu Motors.
Based on the Isuzu pickup truck, we pursued design, ease of use, and a sense of security.
In terms of design, Mazda's design theme "Kodo-SOUL of MOTION" expresses the strength, tough functionality, and tool feel of a pickup truck.
In addition, in order to make traveling and spending time more enjoyable, we have realized driving performance, functionality, and safety that meet the needs of users in a wide range of pickup truck applications and usage scenarios.
YUI