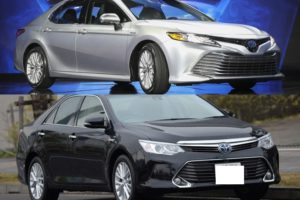 For the new camry, "Dynamic Force Engine" which is a newly developed engine
will be adopted for the first time.
The gasoline model is equipped with an inline 4 cylinder 2.5 liter direct injection engine.
In this gasoline model, "Direct Shift-8AT" of a new transmission completely
refurbished by TNGA is adopted.
Not only realizing the world's top transmission efficiency,
but also by enlarging the multistage and lockup area,
it is realizing driving that reacts at will by the driver.
Also, in the hybrid model, we have renewed the Toyota Hybrid System (THS II) for 2.5 liters.
By combining small size, light weight and low loss technology
with new combustion engine with high combustion efficiency and high output,
superior power performance and fuel economy are realized.
The exterior design was changed.
The biggest point in the change of the full model change is the change of the front face.
The old Camry was similar in design to the Corolla Axio and Corolla Fielder,
but the new Camry hybrid became a sharp look which does not leave any old side look.
If you are looking for any Japanese vehicles , cars and truck and bus , please check our list.
The list of Japanese Used CAR , Truck and bus exporter EVERYCAR.jp (* Click to open).
We do our best work for all customer's partnership.
It's for SDGs Goal number 17 "PARTNERSHIP FOR THE GOALS"
Let's work together !!
Best Regards,
YUI