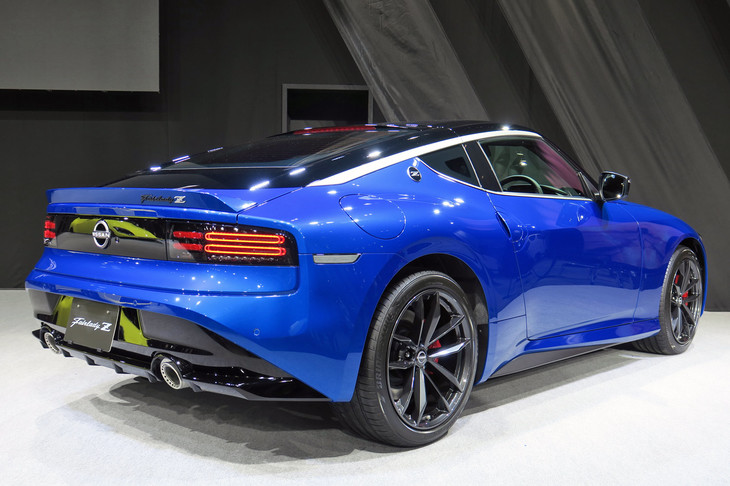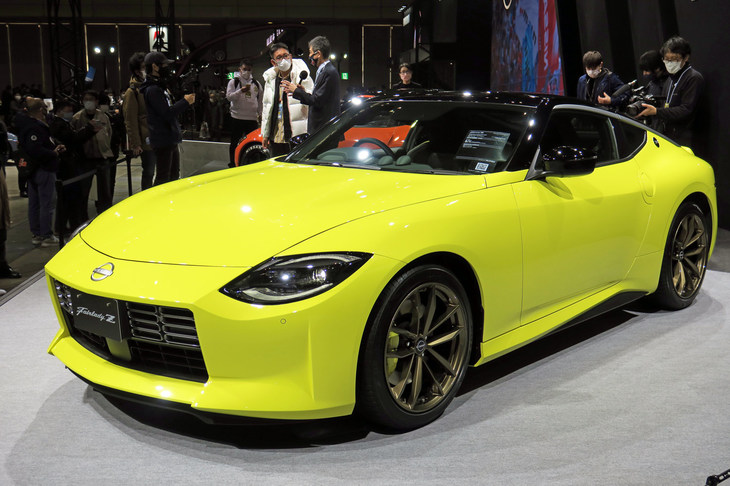 Nissan Motor announced the new "Fairlady Z" at "Tokyo Auto Salon 2022" on January 14, 2022. The Fairlady Z is a Nissan sports car that appeared in 1969. The prototype of the 7th generation new model was announced on September 16, 2020, and the American specification was unveiled in 2021 in New York. This is the first time that the details of the Japanese specifications have been clarified.
At the announcement event, after the successive Fairlady Z was introduced in the video, two new models, yellow and blue, were unveiled. As has already been revealed, the exterior design is a homage to the Fairlady Z of all time. It is clear that the side silhouette and the shape around the front are inspired by the original "S30", and the iconic motif of the rear is a quote from "Z32". A modern arrangement of the classic sports car grammar of a long nose short deck.
The body size of the new Fairlady Z is overall length x width x height = 4380 x 1845 x 1315 mm, wheelbase = 2550 mm. The engine is a 3-liter V6 twin-turbo "VR30DDTT" with a maximum output of 405PS (298kW) and a maximum torque of 475N ・ m (48.4kgf ・ m). There are two types of transmissions, a 6-speed MT and a 9-speed AT.
Sales are scheduled to start in late June 2022, and the first to be offered is the special specification car "Proto Spec". The coloring is two tones of "Ikazuchi Yellow / Super Black", equipped with a 19-inch aluminum forged wheel made by Rays of the exclusive color "Titanium Gold" and a 4-wheel aluminum caliper opposed piston brake painted in yellow. For the interior, a combination sheet of genuine leather and suede-like fabric (with yellow center stripe, yellow stitch, yellow accent line) is adopted, and the instrument panel, door trim cloth, MT shift knob boots, knee pads, etc. are also in exclusive colors. It is stitched.
The number of units sold is 240, and the price is 6,966,300 yen for both 6-speed MT and 9-speed AT. To purchase, you need to register for "Fairlady Z Mail Magazine" and apply online, and if there are more than 240 applications, a lottery will be held. The reception is scheduled to start on February 7, 2022.
If you are looking for any Japanese vehicles , cars and truck and bus , please check our list.
The list of EVERYCAR.jp (* Click to open).
We do our best work for all customer's partnership.
It's for SDGs Goal number 17 "PARTNERSHIP FOR THE GOALS"
Let's work together !!
Best regards