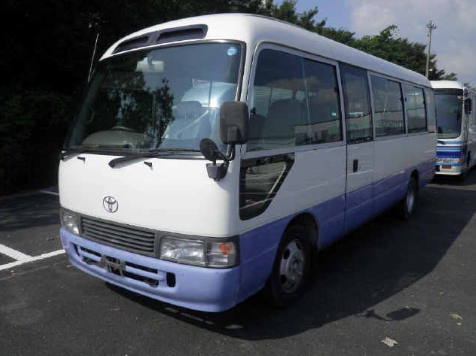 This coaster is the newest stock, 1HZ engine, 29-seater, MT, most popular bus overseas. Because it is popular, it is traded at a very high price. This Coaster bus odometer is only 35,704km, very good engine and running condition.
Coasters are often registered as big bangs (1 number) and campers (8 numbers), and are often used as location buses for TV broadcasting stations. In addition, as with Nissan and Civilian, there are some domestic operators that have been introduced for community buses. It is also a vehicle that is often exported as a used car to developing countries after being scrapped for use in Japan. Hino Motors of the affiliated company is supplied with OEM under the name of Riesse II (after the third generation).
There are also export specifications with line specifications, such as straps, emergency exits, and buzzers, and most public light buses operating in Hong Kong use coaster LPG. In addition, the 1BZ type 4.1 L LPG engine-equipped vehicle developed for Hong Kong has been released in Japan since the third generation, and is set up as a coaster / liesse and used in kindergarten buses. In Europe, Portugal's Salvador Caetano installs its own body on the coaster chassis and sells it under the name Optimo.
We are waiting your inquiry.
https://www.everycar.jp/toyota/coaster/1997/736172/
If you are looking for awny Japanese vehicles , cars and truck and bus , please check our list.
The list of Japanese Used CAR , Truck and bus exporter EVERYCAR.jp (* Click to open).
We do our best work for all customer's partnership.
It's for SDGs Goal number 17 "PARTNERSHIP FOR THE GOALS"
Let's work together !!
Best Regards,