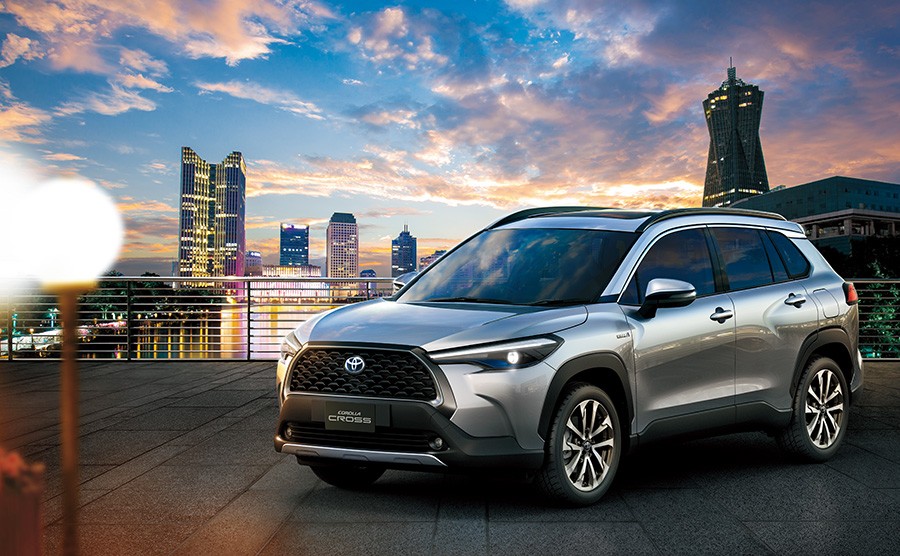 Toyota Motor Co., Ltd. released the Corolla series compact SUV "Corolla Cross" on July 9th in Thailand and started selling it. The Corolla series is Toyota's global best-selling car that has sold more than 48 million units in more than 150 countries and regions around the world since its first release in Japan in 1966. This time, SUVs, which are in high demand worldwide, are added to the series. A line-up that can be selected according to the user's lifestyle and life stage.
The Corolla Cross was developed with the keyword "COROLLA MEETS SUV" as a keyword to satisfy both the user's expectations, "vehicle appearance (appearance that makes you feel powerful)" and "utility (usability)." The adoption of the TNGA platform (GA-C) and the new torsion beam suspension realizes high-quality driving, a comfortable ride, and quietness.
The exterior has a graceful side view with a sense of space and vehicle appearance, and a majestic front and rear stance, with a sleek texture and refined design in its strength. In addition, strong FR fender modeling creates an active atmosphere. The contrast between the RR fender and the cabin expresses a dignified stance.
The interior secures a good view space and sufficient head clearance, and realizes a wide field of view with a high eye point. The luggage space is 487 liters (when the flat tire repair kit/temper tires are not installed), which has a class-leading luggage compartment capacity, and the rear seats have wide openings for passengers getting on and off.
In addition to the 1.8-liter gasoline model, a hybrid version is also available. Toyota Motor Corporation will gradually expand the number of countries where the Corolla Cross is introduced.