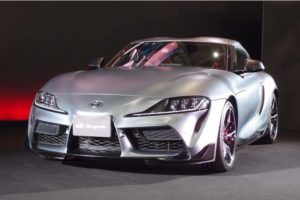 On May 17, 2019, Toyota Motor announced the new model of the FR sports car "Supra". On the same day, we launched domestic sales.
Supra, which had finished producing the predecessor model in 2002, returned to the domestic market after 17 years. It is the first product in a comprehensive partnership with BMW, and will be produced at the Graz plant, Magna Steyr, Austria.

Body size × length × width × height = 4380 × 1865 × 1290mm, wheel base is 2470mm (value of the top grade "RZ". Other grades are 1295mm total height). It has an exterior design that looks like a sports car, which is held low. It features a "super wide stance" consisting of a tight cabin and a wide tread, and a silhouette of long nose and short cabin, and is designed to reduce air resistance such as adopting a double bubble roof with the driver and passenger seats rising overhead. Is also considered. The body shape with a sense of concentration is said to be conscious of Toyota sports heritage such as the old sports car "2000 GT" and the predecessor Supra.
YUI