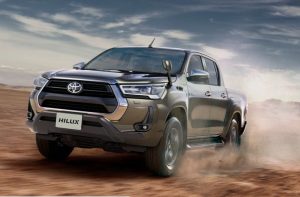 Toyota made a minor change to the pickup truck "Hilux" on August 19, 2020, and started selling on the same day.
The current Hilux is a middle-class pickup truck that Toyota globally develops, and was introduced to Japan in 2017 in the form of being imported from Thailand.

Currently, it is the only pickup truck that can be purchased as a new car in the domestic market. In this minor change, we changed the design based on the concept of "Tough & Recreational" to emphasize the power and excitement of a pickup truck.
It aims to improve fuel efficiency, improve riding comfort and driving stability, and enhance safety equipment. Regarding the design, the exterior uses a large trapezoidal grille on the front, and the Japanese version is equipped with a dedicated bumper guard garnish to create a more active image.
In addition to the design that emphasizes the wide feeling of both the grill and the headlamp, the high-grade "Z" comes standard with the "Bi-Beam LED" headlamp. On the other hand, in the interior, the Optitron meter and 4.2-inch TFT color multi-information display, which had been used only for the Z, are now available in the basic "X" grade.
The design of the decoration has also been changed by plating the ring on the meter itself.
Fuel economy performance, steering stability, and improved riding comfort In terms of driving performance, we have achieved a fuel economy of 11.7km/liter in WLTC mode by improving the diesel engine and adopting an idling stop mechanism.
In JC08 mode, the value has improved by more than 15% from the conventional 11.8km/liter to 13.6km/liter. In addition to improving suspension and adding VFC (Variable Flow Control) function, the ride comfort and steering stability are improved, and the Z torque is optimized for the left and right drive wheels when cornering or driving on rough roads. Newly adopted auto LSD to improve performance. In addition, we are expanding safety equipment for Z. In addition to pre-crash safety and lane departure alert (with yaw assist function), clearance sonar and back sonar are provided as standard to indicate approaching stationary objects and alert sound. did.
YUI