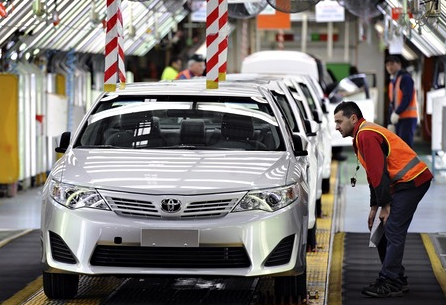 Toyota finished production at the factory in Victoria, southern Australia on March 3. Because profitability deteriorated due to the high Australian dollar and so on, it withdrew from local production that lasted more than half a century. Toyota, the top market for new cars in the country, will sell vehicles imported from Japan and elsewhere in the future. 
In Australia, production of US subsidiary General Motors (GM), which is a major US automobile, will also be canceled on 20th, eliminating the finished car manufacturers of passenger cars.
At the factory, ceremonies were held with about 3000 employees including OB attending. Australian corporation president Dave Batner said, "Thanks to your long-standing efforts, Toyota became the top automobile production company in Australia," he said.
Toyota started assembling cars in Australia in 1963. In 2007 of the heyday it produced about 148,900 units. With the withdrawal of production, we dismissed approximately 2,600 people, equivalent to two-thirds of the number of people, reorganize the local corporation into a sales company within the year and consolidate functions in Melbourne. The sedan "Camry" which had been producing to the end at the factory will switch to import from Japan.
If you are looking for any Japanese vehicles , cars and truck and bus , please check our list.
The list of Japanese Used CAR , Truck and bus exporter EVERYCAR.jp (* Click to open).
We do our best work for all customer's partnership.
It's for SDGs Goal number 17 "PARTNERSHIP FOR THE GOALS"
Let's work together !!
Best Regards,