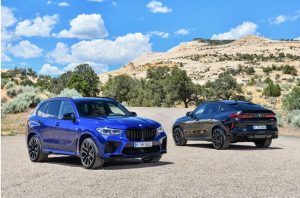 On March 12, 2020, BMW Japan announced the introduction of the high performance SUV "X5 M" and "X6 M", and started receiving orders on the same day.

The company plans to deliver vehicles sequentially from April of the same year.
The X5 M and X6 M are models developed by BMW M based on the new X5 and X6,
and will be introduced in Japan with the most powerful maximum output of 625 PS and maximum torque of 750 Nm4.4
It will be a "competition" with a liter V8 twin turbo engine.
The transmission is combined with an 8-speed AT called "M Step Tronic with Drive Logic".
The drive system is a full-time 4WD "Intelligent four-wheel drive system MxDrive",
which automatically changes the front and rear torque distribution according to the road surface conditions.
Drive distribution can be set arbitrarily.
There is also a "4WD sport" mode that is almost rear-wheel drive suitable for sports driving such as circuits.
In terms of design, it is equipped with a black kidney grille that employs a double bar
that symbolizes the "M model", a mirror cap specially designed for M to improve aerodynamic performance,
and a side air outlet also designed exclusively for M. The "M Sports Exhaust System", which gives an exciting sound like an M model, is also used.
YUI