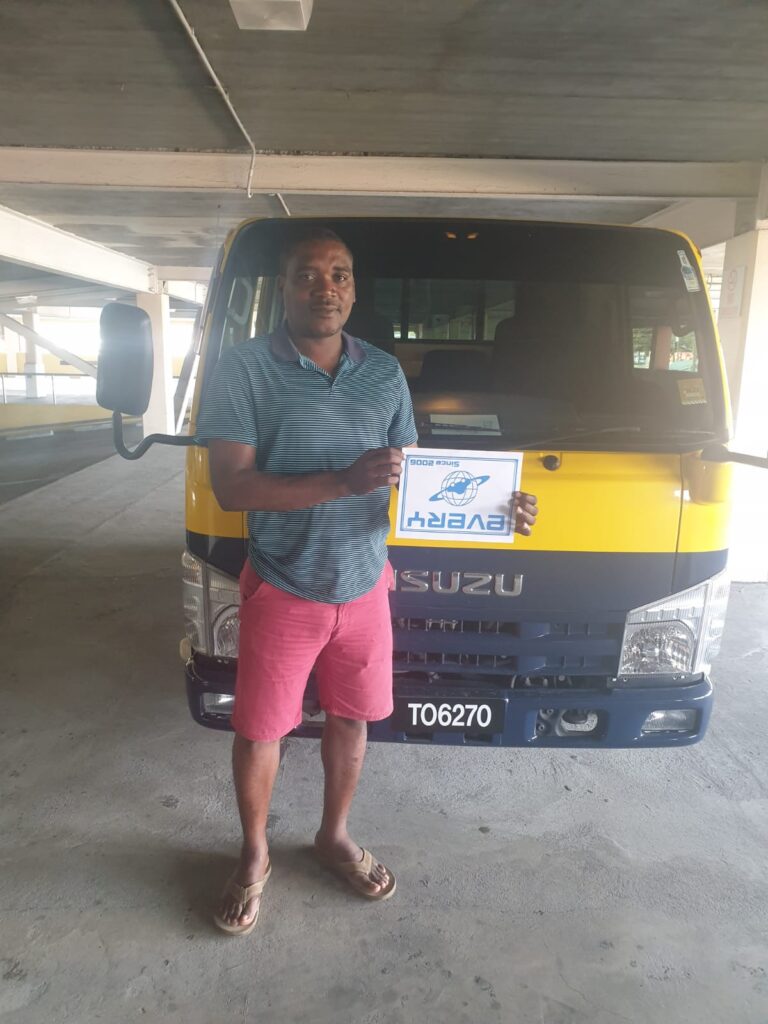 Used ISUZU ELF TRUCK are popular worldwide. Reasons for their popularity include durability, reliability, efficient fuel consumption, and parts availability. These characteristics are in demand in many countries, even used ones, because they work well in areas with imperfect infrastructure and challenging road conditions.
The model codes and engine types of ISUZU ELF TRUCK are presented here, and we hope you will find this information useful when searching for a truck.
If you are looking for ISUZU ELF TRUCK, please check our list.
Used ISUZU ELF TRUCK for sale (* Click to open).
We do our best work for all customer's partnership.
It's for SDGs goal number 17 "PARTNERSHIP FOR THE GOALS".
Let's work together!
| | | | |
| --- | --- | --- | --- |
| Model Code | Engine Type | Engine Size | Drivetrain |
| AKR66EAV | 4HF1 | 4,330 cc | 2WD |
| AKR81AN | 4HL1 | 0 cc | 2WD |
| ASN2F23 | TD25 | 2,500 cc | 2WD |
| ASN6F23 | TD25 | 2,500 cc | 2WD |
| ASP2F23 | TD27 | 2,700 cc | 2WD |
| ASP6F23 | TD27 | 2,500 cc | 2WD |
| ASP8F23 | QD32 | 3,200 cc | 2WD |
| ASR2F23 | QD32 | 3,200 cc | 2WD |
| ASR8F23 | QD32 | 3,200 cc | 2WD |
| ASZ1F24 | ZD30DDTi | 3,000 cc | 2WD |
| ASZ2F24 | ZD30DDTi | 3,000 cc | 2WD |
| BKG-NJR85AN |   | 3,000 cc | 2WD |
| BKG-NJS85A |   | 2,990 cc | 4WD |
| BKG-NKR85 |   | 2,990 cc | 2WD |
| BKG-NKR85A | 4JJ1 | 3,000 cc | 2WD |
| BKG-NKR85AN | 4JJ1 | 2,990 cc | 2WD |
| BKG-NKR85N |   | 2,990 cc |   |
| BKG-NLR85AN |   | 2,990 cc |   |
| BKG-NLR85AR | 4JJ1 | 2,990 cc | 2WD |
| BKG-NLS85AR |   | 2,990 cc | 4WD |
| BKG-NMR85AN |   | 2,990 cc | 2WD |
| BKG-NMR85AR |   | 3,000 cc |   |
| BKG-NNR85AR |   | 3,000 cc |   |
| BKG-NNS85AR | 4JJ11 | 2,990 cc | 2WD |
| BKG-NPR85AN | 4JJ1 | 3,000 cc | 2WD |
| BKG-NPR85AR |   | 3,000 cc |   |
| FSR32P2 |   | 3,000 cc | 2WD |
| K-KAD52N |   | 2,400 cc | 2WD |
| KA51N | G161 | 1,580 cc | 2WD |
| KAD51N | G161 | 2,000 cc | 2WD |
| KAD52N | G162 | 2,400 cc | 2WD |
| KC-NHR69E |   | 3,100 cc | 2WD |
| KC-NKR66EA |   | 4,330 cc | 2WD |
| KC-NKR66ED | 4HF1 | 4,300 cc | 2WD |
| KC-NKR66GN |   | 4,300 cc | 2WD |
| KC-NKR66LAR |   | 4,300 cc | 2WD |
| KC-NKR69EA |   | 3,050 cc | 2WD |
| KC-NKR71LR |   | 4,570 cc | 2WD |
| KC-NPR71LR |   | 4,600 cc |   |
| KHR69 | 4JG2 | 3,100 cc | 2WD |
| KHR81 | 4HL1 | 4,800 cc | 2WD |
| KK-NHR69EAV |   | 3,100 cc | 2WD |
| KK-NKR66E3N |   | 4,330 cc |   |
| KK-NKR66EA |   | 4,300 cc |   |
| KK-NKR66ED |   | 4,330 cc |   |
| KK-NKR66EP |   | 4,330 cc |   |
| KK-NKR69EAV |   | 3,050 cc |   |
| KK-NKR71ED |   | 4,600 cc |   |
| KK-NKR71LR |   | 4,570 cc | 2WD |
| KK-NKR81ED |   | 4,800 cc | 2WD |
| KK-NPR72GDR | 4HJ1 | 4,980 cc | 2WD |
| KK-NQR75TN |   | 5,190 cc |   |
| KR-BKR81E3N |   | 4,800 cc |   |
| KR-NHR69 |   | 3,100 cc |   |
| KR-NHR69E |   | 3,100 cc | 2WD |
| KR-NHR69N |   | 3,100 cc |   |
| KR-NHS69A |   | 3,050 cc | 4WD |
| KR-NHS69AN |   | 3,100 cc |   |
| KR-NKR66LAR |   | 4,300 cc |   |
| KR-NKR81E |   | 4,800 cc | 2WD |
| KR-NKR81E3N |   | 4,770 cc |   |
| KR-NKR81EA | 4HL1 | 4,770 cc | 2WD |
| KR-NKR81EAV |   | 4,800 cc | 2WD |
| KR-NKR81ED |   | 4,770 cc | 2WD |
| KR-NKR81EP |   | 4,770 cc | 2WD |
| KR-NKR81LR |   | 4,770 cc | 2WD |
| KR-NKS81EAV |   | 4,800 cc | 4WD |
| KR-NPR72LAR |   | 4,980 cc |   |
| KR-NPR72LR |   | 4,980 cc |   |
| KR-NPR81LR |   | 4,800 cc |   |
| KR-NPR81LV |   | 4,770 cc | 2WD |
| KR-NPR81PAV |   | 4,770 cc |   |
| KS32 | 4BD1 | 3,850 cc | 2WD |
| KT25 | 4BC1 | 3,260 cc | 2WD |
| KT26 | 4BC2 | 3,260 cc | 2WD |
| LKG-CYL77A |   | 0 cc | 2WD |
| LKG-EXD52AD |   | 0 cc | 2WD |
| NHR54 | 4JA1 | 2,500 cc | 2WD |
| NHR54C | A061 | 2,490 cc | 2WD |
| NHR54E | 4JA1 | 2,490 cc | 2WD |
| NHR55 | 4JB1 | 2,800 cc | 2WD |
| NHR55C | 4JB1 | 2,770 cc | 2WD |
| NHR55CA | 4JB1 | 0 cc | 2WD |
| NHR55E | 4JB1 | 2,800 cc | 2WD |
| NHR55EA | 4JB1 | 2,770 cc | 2WD |
| NHR55EAVN | 4JB1 | 2,800 cc | 2WD |
| NHR55EVN | 4JJ1 | 2,800 cc | 2WD |
| NHR69 |   | 3,050 cc |   |
| NHR69C | 4JG2 | 3,050 cc | 2WD |
| NHR69CA | 4JG2 | 3,050 cc | 2WD |
| NHR69CAV | 4JG2 | 3,100 cc | 2WD |
| NHR69CV | 4JG2 | 3,000 cc | 2WD |
| NHR69CVN | 4JG2 | 3,050 cc | 2WD |
| NHR69E | 4JG2 | 3,100 cc | 2WD |
| NHR69EA | 4JG2 | 3,100 cc | 2WD |
| NHR69EAV | 4JG2 | 3,050 cc | 2WD |
| NHR69EAVN | 4JG2 | 3,100 cc | 2WD |
| NHR69EAVカイ | 4JG2 | 3,050 cc | 2WD |
| NHR69EV | 4JG2 | 3,000 cc | 2WD |
| NHR69EVA | 4JG2 | 3,100 cc | 2WD |
| NHR69EVN | 4JG2 | 3,100 cc | 2WD |
| NHR69N | 4JG2 | 3,100 cc | 2WD |
| NHR69N 改 | 4GJ2 | 3,050 cc | 2WD |
| NHR85A | 4JJ1 | 2,990 cc | 2WD |
| NHR85AN | 4JJ12 | 3,000 cc | 2WD |
| NHR85N | 4JJ1 | 0 cc | 2WD |
| NHR89 | 4JG2 | 3,100 cc | 2WD |
| NHS55 | 4JB1 | 2,800 cc | 2WD |
| NHS55E | 4JB1 | 2,770 cc | 4WD |
| NHS55EA | 4JB1 | 2,770 cc | 2WD |
| NHS55EAVN | 4JB1 | 2,770 cc | 2WD |
| NHS69A | 4JG2 | 0 cc | 2WD |
| NHS69AN | 4JG2 | 3,050 cc | 4WD |
| NHS69E | 4JG2 | 0 cc | 2WD |
| NHS69EA | 4JG2 | 3,100 cc | 4WD |
| NHS69EAV | 4JG2 | 0 cc | 2WD |
| NHS69EAVカイ | 4JG2 | 3,050 cc | 4WD |
| NHS85A | 4JJ1 | 3,000 cc | 2WD |
| NHS85AN | 4JJ1 | 2,990 cc | 4WD |
| NJR85A | 4JJ1 | 3,000 cc | 2WD |
| NJR85AD | 4JJ1 | 0 cc | 2WD |
| NJR85AN | 4JJ1 | 3,000 cc | 2WD |
| NJR85AR | 4JJ1 | 2,990 cc | 2WD |
| NJR85N | 4JJ11 | 3,000 cc | 2WD |
| NJS85A | 4JJ1 | 3,000 cc | 2WD |
| NJS85AN | 4JJ11 | 2,990 cc | 4WD |
| NKR55 | 4JB1 | 2,800 cc | 2WD |
| NKR55CAE | 4JB1 | 0 cc | 2WD |
| NKR55CE | 4JB1 | 2,770 cc | 2WD |
| NKR55E | 4JB1 | 2,770 cc | 2WD |
| NKR55EA | 4JB1 | 2,770 cc | 2WD |
| NKR55EAVN | 4JB1 | 2,770 cc | 2WD |
| NKR55EVN | 4JB1 | 2,770 cc | 2WD |
| NKR55EVN2 | 4JB1 | 0 cc | 2WD |
| NKR55LR | 4JB1 | 2,770 cc | 2WD |
| NKR57 | 4BC2 | 3,300 cc | 2WD |
| NKR57E | 4BC2 | 3,260 cc | 2WD |
| NKR57E2KN | 4BC2 | 3,260 cc | 2WD |
| NKR57E2N | 4BC2 | 3,260 cc | 2WD |
| NKR57ED | 4BC2 | 3,260 cc | 2WD |
| NKR57EN | 4BC3 | 3,260 cc | 2WD |
| NKR57EVN | 4BC4 | 3,260 cc | 2WD |
| NKR57LR | 4BC2 | 3,260 cc | 2WD |
| NKR58E | 4BE1 | 0 cc | 2WD |
| NKR58E2H | 4BC2 | 3,630 cc | 2WD |
| NKR58E2N | 4BE1 | 0 cc | 2WD |
| NKR58E2Nカイ | 4HF1 | 3,600 cc | 2WD |
| NKR58EA | 4BE1 | 3,630 cc | 2WD |
| NKR58EAV | 4BE1 | 3,630 cc | 2WD |
| NKR58EAVN | 4BE1 | 3,630 cc | 2WD |
| NKR58ED | 4BE1 | 3,600 cc | 2WD |
| NKR58EN | 4BE1 | 3,630 cc | 2WD |
| NKR58EP | 4BE1 | 3,630 cc | 2WD |
| NKR58EPN | 4BE1 | 3,630 cc | 2WD |
| NKR58EVN | 4BE1 | 3,630 cc | 2WD |
| NKR58EZN | 4BE1 | 3,630 cc | 2WD |
| NKR58LAR | 4BE1 | 3,630 cc | 2WD |
| NKR58LAV | 4BE1 | 3,630 cc | 2WD |
| NKR58LAVN | 4BE1 | 3,630 cc | 2WD |
| NKR58LR | 4BE1 | 3,600 cc | 2WD |
| NKR58LVN | 4BE1 | 3,630 cc | 2WD |
| NKR61 | 4BG1 | 4,300 cc | 2WD |
| NKR61E | 4BG1 | 4,320 cc | 2WD |
| NKR61ED | 4BG1 | 4,320 cc | 2WD |
| NKR61LR | 4BG1 | 4,320 cc | 2WD |
| NKR63 | 4BE2 | 3,700 cc | 2WD |
| NKR63E | 4BE2 | 3,630 cc | 2WD |
| NKR63ED | 4BE2 | 3,630 cc | 2WD |
| NKR63EPN | 4BE2 | 3,630 cc | 2WD |
| NKR63LR | 4BE2 | 3,630 cc | 2WD |
| NKR66E | 4HF1 | 0 cc | 2WD |
| NKR66E2N | 4HF1 | 4,300 cc | 2WD |
| NKR66E3N | 4HF1 | 4,300 cc | 2WD |
| NKR66EA | 4HF1 | 4,300 cc | 2WD |
| NKR66EAN | 4HV1 | 4,300 cc | 2WD |
| NKR66EAV | 4HF1 | 0 cc | 2WD |
| NKR66EAVN | 4HF1 | 4,300 cc | 2WD |
| NKR66EAVカイ | 4HF1 | 4,300 cc | 2WD |
| NKR66EB | 4HF1 | 4,300 cc | 2WD |
| NKR66ED | 4HF1 | 4,300 cc | 2WD |
| NKR66EDN | 4HF1 | 4,300 cc | 2WD |
| NKR66EN | 4HF1 | 4,300 cc | 2WD |
| NKR66EP | 4HF1 | 4,300 cc | 2WD |
| NKR66EPN | 4HF1 | 4,300 cc | 2WD |
| NKR66ER | 4HF1 | 4,300 cc | 2WD |
| NKR66EVN | 4HF1 | 4,300 cc | 2WD |
| NKR66GAV | 4HF1 | 4,300 cc | 2WD |
| NKR66GAVN | 4HF1 | 4,300 cc | 2WD |
| NKR66GN | 4HF1 | 4,300 cc | 2WD |
| NKR66L | 4HF1 | 0 cc | 2WD |
| NKR66LAR | 4HF1 | 4,330 cc | 2WD |
| NKR66LAV | 4HF1 | 4,330 cc | 2WD |
| NKR66LAVN | 4HF1 | 4,330 cc | 2WD |
| NKR66LR | 4HF1 | 4,330 cc | 2WD |
| NKR66LV | 4HF1 | 4,330 cc | 2WD |
| NKR66LVN | 4HF1 | 4,330 cc | 2WD |
| NKR69 | 4JG2 | 3,100 cc | 2WD |
| NKR69CAE | 4JG2 | 3,050 cc | 2WD |
| NKR69CAEG | 4JG2 | 3,050 cc | 2WD |
| NKR69E | 4JG2 | 3,050 cc | 2WD |
| NKR69EA | 4JG2 | 3,050 cc | 2WD |
| NKR69EAV | 4JG2 | 3,050 cc | 2WD |
| NKR69EAVN | 4JG2 | 3,050 cc | 2WD |
| NKR71E | 4HG1 | 4,570 cc | 2WD |
| NKR71E2N | 4HG1 | 4,570 cc | 2WD |
| NKR71E3N | 4HG1 | 4,600 cc | 2WD |
| NKR71EA | 4HG1 | 4,570 cc | 2WD |
| NKR71EAV | 4HG1 | 4,570 cc | 2WD |
| NKR71ED | 4HG1 | 4,570 cc | 2WD |
| NKR71EDN | 4HF1 | 4,570 cc | 2WD |
| NKR71EN | 4HG1 | 4,570 cc | 2WD |
| NKR71EP | 4HG1 | 4,570 cc | 2WD |
| NKR71ER | 4HG1 | 4,570 cc | 2WD |
| NKR71ET | 4HG1 | 0 cc | 2WD |
| NKR71EV | 4HG1 | 4,570 cc | 2WD |
| NKR71G | 4HG1 | 4,700 cc | 2WD |
| NKR71GAV | 4HG1 | 4,570 cc | 2WD |
| NKR71GN | 4HG1 | 4,570 cc | 2WD |
| NKR71LAR | 4HG1 | 4,570 cc | 2WD |
| NKR71LAV | 4HG1 | 4,570 cc | 2WD |
| NKR71LN | 4HG1 | 4,570 cc | 2WD |
| NKR71LR | 4HG1 | 4,600 cc | 2WD |
| NKR71LV | 4HG1 | 4,570 cc | 2WD |
| NKR71LZ | 4HG1 | 0 cc | 2WD |
| NKR72 | 4HJ1 | 5,000 cc | 2WD |
| NKR72E3N | 4HJ1 | 4,980 cc | 2WD |
| NKR72ED | 4HJ1 | 4,980 cc | 2WD |
| NKR72GN | 4HJ1 | 4,980 cc | 2WD |
| NKR72LN | 4HJ1 | 5,000 cc | 2WD |
| NKR72LR | 4HJ1 | 5,000 cc | 2WD |
| NKR72LV | 4HJ1 | 0 cc | 2WD |
| NKR81A | 4HL1 | 4,800 cc | 2WD |
| NKR81AD | 4HL1 | 4,800 cc | 2WD |
| NKR81AN | 4HL1 | 4,800 cc | 2WD |
| NKR81AR | 4HL1 | 4,800 cc | 2WD |
| NKR81AV | 4HL1 | 4,800 cc | 2WD |
| NKR81AW | 4HL1 | 4,800 cc | 2WD |
| NKR81E | 4HL1 | 4,800 cc | 2WD |
| NKR81E3N | 4HL1 | 4,800 cc | 2WD |
| NKR81EA | 4HL1 | 4,800 cc | 2WD |
| NKR81EAD | 4HL1 | 4,800 cc | 2WD |
| NKR81EAN | 4HL1 | 4,800 cc | 2WD |
| NKR81EAV | 4HG1 | 4,800 cc | 2WD |
| NKR81ED | 4HL1 | 4,800 cc | 2WD |
| NKR81EN | 4HL1 | 4,800 cc | 2WD |
| NKR81EP | 4HL1 | 4,800 cc | 2WD |
| NKR81GAV | 4HL1 | 4,800 cc | 2WD |
| NKR81GN | 4HL1 | 4,800 cc | 2WD |
| NKR81L | 4HL1 | 0 cc | 2WD |
| NKR81LAR | 4HL1 | 4,800 cc | 2WD |
| NKR81LAV | 4HL1 | 4,800 cc | 2WD |
| NKR81LAY | 4HL1 | 0 cc | 2WD |
| NKR81LN | 4HL1 | 4,800 cc | 2WD |
| NKR81LR | 4HL1 | 4,800 cc | 2WD |
| NKR81LV | 4HL1 | 0 cc | 2WD |
| NKR81LZ | 4HL1 | 0 cc | 2WD |
| NKR81N | 4HL1 | 4,800 cc | 2WD |
| NKR81R | 4HL1 | 4,800 cc | 2WD |
| NKR82AN | 4JJ1 | 4,570 cc | 2WD |
| NKR82N | 4HV1 | 0 cc | 2WD |
| NKR82XAN | 4HV1 | 4,570 cc | 2WD |
| NKR85A | 4JJ1 | 3,000 cc | 2WD |
| NKR85AD | 4JJ1 | 2,990 cc | 2WD |
| NKR85AN | 4JJ11 | 2,990 cc | 2WD |
| NKR85AR | 4JJ11 | 2,990 cc | 2WD |
| NKR85ED |   | 3,630 cc | 2WD |
| NKR85N | 4JJ1 | 2,990 cc | 2WD |
| NKR85R | 4JJ1 | 2,990 cc | 2WD |
| NKR85YN | 4JJ1 | 2,990 cc | 2WD |
| NKR88AD |   | 3,000 cc |   |
| NKS58 | 4BE1 | 3,700 cc | 2WD |
| NKS58G | 4BE1 | 3,600 cc | 2WD |
| NKS58GDE | 4BE1 | 0 cc | 2WD |
| NKS58GDR | 4BE1 | 3,600 cc | 2WD |
| NKS58GN | 4BE1 | 3,600 cc | 2WD |
| NKS58GR | 4BE1 | 3,600 cc | 2WD |
| NKS66G | 4HF1 | 0 cc | 2WD |
| NKS66GA | 4JJ1 | 4,300 cc | 4WD |
| NKS66GAR | 4JJ1 | 4,330 cc | 2WD |
| NKS66GAV | 4JJ1 | 4,330 cc | 2WD |
| NKS66GDR | 4JJ1 | 4,330 cc | 2WD |
| NKS66GR | 4JJ1 | 4,330 cc | 2WD |
| NKS66LAV | 4JJ1 | 4,330 cc | 4WD |
| NKS69EA | 4HG1 | 3,050 cc | 2WD |
| NKS71EA | 4HG1 | 4,570 cc | 2WD |
| NKS71EAD | 4HG1 | 4,570 cc | 2WD |
| NKS71G | 4HG1 | 4,570 cc | 2WD |
| NKS71GA | 4HG1 | 0 cc | 2WD |
| NKS71GAR | 4HG1 | 4,600 cc | 4WD |
| NKS71GAV | 4HG1 | 4,570 cc | 2WD |
| NKS71GDR | 4HG1 | 4,570 cc | 2WD |
| NKS71GR | 4HG1 | 4,570 cc | 2WD |
| NKS71LAR | 4HG1 | 4,570 cc | 2WD |
| NKS71LAV | 4HG1 | 4,570 cc | 2WD |
| NKS71LN | 4HG1 | 0 cc | 2WD |
| NKS81A | 4HL1 | 4,770 cc | 2WD |
| NKS81AN | 4HL1 | 4,770 cc | 2WD |
| NKS81AR | 4HL1 | 4,770 cc | 2WD |
| NKS81EA | 4HL1 | 4,770 cc | 2WD |
| NKS81EAD | 4HL1 | 4,770 cc | 2WD |
| NKS81EAV | 4HL1 | 0 cc | 2WD |
| NKS81EAVカイ | 4HL1 | 4,800 cc | 4WD |
| NKS81GAV | 4HL1 | 4,770 cc | 2WD |
| NKS81GDR | 4HL1 | 0 cc | 2WD |
| NKS81GR | 4HL1 | 4,770 cc | 2WD |
| NKS81LAR | 4HL1 | 0 cc | 2WD |
| NKS81LAV | 4HL1 | 0 cc | 2WD |
| NKS81LN | 4HL1 | 4,770 cc | 2WD |
| NKS81N | 4HL1 | 0 cc | 2WD |
| NKS85A | 4JJ1 | 2,990 cc | 4WD |
| NKS85AD | 4JJ1 | 0 cc | 2WD |
| NKS85AN | 4JJ1 | 2,990 cc | 4WD |
| NLR82AN | 4HV1 | 0 cc | 2WD |
| NLR85 |   | 2,990 cc |   |
| NLR85AN | 4JJ1 | 2,999 cc | 2WD |
| NLR85AR | 4JJ1 | 2,990 cc | 2WD |
| NLR85N | 4JJ1 | 0 cc | 2WD |
| NLS85AN | 4JJ1 | 2,990 cc | 2WD |
| NLS85AR | 4JJ1 | 0 cc | 2WD |
| NMR58R | 4BE1 | 0 cc | 2WD |
| NMR82AN | 4HV1 | 2,990 cc | 2WD |
| NMR82ZAN | 4HV1 | 0 cc | 2WD |
| NMR85 | 4JJ1 | 2,990 cc | 2WD |
| NMR85AN | 4JJ1 | 3,000 cc | 2WD |
| NMR85AR | 4JJ1 | 2,990 cc | 2WD |
| NMR85N | 4JJ1 | 3,000 cc | 2WD |
| NMR85R | 4JJ1 | 2,990 cc | 2WD |
| NMS85AN | 4JJ11 | 3,000 cc | 4WD |
| NNR85AN | 4JJ11 | 2,990 cc | 2WD |
| NNR85AR | 4JJ11 | 2,990 cc | 2WD |
| NNS85AR | 4JJ11 | 2,990 cc | 2WD |
| NPR57GR | 4BC2 | 3,260 cc | 2WD |
| NPR57LR | 4BC2 | 3,260 cc | 2WD |
| NPR57LVN | 4BC2 | 3,260 cc | 2WD |
| NPR57PR | 4BC2 | 3,260 cc | 2WD |
| NPR58GR | 4BE1 | 0 cc | 2WD |
| NPR58L | 4BE1 | 3,630 cc | 2WD |
| NPR58LR | 4BE1 | 3,600 cc | 2WD |
| NPR58LVN | 4BE1 | 3,630 cc | 2WD |
| NPR58P | 4BE1 | 0 cc | 2WD |
| NPR58PR | 4BE1 | 3,630 cc | 2WD |
| NPR59 | 4BD1 | 3,900 cc | 2WD |
| NPR59GDR | 4BD1 | 3,850 cc | 2WD |
| NPR59LR | 4BD1 | 3,850 cc | 2WD |
| NPR59LYR | 4BD1 | 3,850 cc | 2WD |
| NPR59P | 4BD1 | 3,850 cc | 2WD |
| NPR59PR | 4BD1 | 3,850 cc | 2WD |
| NPR59PYR | 4BD1 | 3,850 cc | 2WD |
| NPR61 | 4BG1 | 4,300 cc | 2WD |
| NPR61GDR | 4BG1 | 4,320 cc | 2WD |
| NPR61GYN | 4BG1 | 0 cc | 2WD |
| NPR61LR | 4BG1 | 4,320 cc | 2WD |
| NPR61P | 4BG1 | 0 cc | 2WD |
| NPR61PR | 4BG1 | 4,320 cc | 2WD |
| NPR61PYR | 4BG1 | 4,320 cc | 2WD |
| NPR66G | 4HF1 | 0 cc | 2WD |
| NPR66GDR | 4HF1 | 4,300 cc | 2WD |
| NPR66GR | 4HF1 | 4,330 cc | 2WD |
| NPR66GV | 4HF1 | 0 cc | 2WD |
| NPR66GVN | 4HF1 | 4,330 cc | 2WD |
| NPR66GYN | 4HF1 | 4,330 cc | 2WD |
| NPR66L | 4HF1 | 4,330 cc | 2WD |
| NPR66LR | 4HF1 | 4,300 cc | 2WD |
| NPR66LV | 4HF1 | 4,330 cc | 2WD |
| NPR66LVN | 4HF1 | 4,330 cc | 2WD |
| NPR66LYR | 4HF1 | 0 cc | 2WD |
| NPR66P | 4HF1 | 4,330 cc | 2WD |
| NPR66PR | 4HF1 | 4,300 cc | 2WD |
| NPR66PRカイ |   | 4,330 cc | 2WD |
| NPR66PV | 4HF1 | 4,330 cc | 2WD |
| NPR66PVN | 4HF1 | 4,330 cc | 2WD |
| NPR66PYR | 4HF1 | 4,330 cc | 2WD |
| NPR66VN | 4HF1 | 0 cc | 2WD |
| NPR69 | 4JG2 | 3,100 cc | 2WD |
| NPR70 | 4HE1-T | 4,800 cc | 2WD |
| NPR70GDR | 4HE1-T | 4,750 cc | 2WD |
| NPR70LR | 4HE1-T | 4,750 cc | 2WD |
| NPR70LV | 4HE1-T | 4,750 cc | 2WD |
| NPR70LVN | 4HE1-T | 4,750 cc | 2WD |
| NPR70LYR | 4HE1-T | 4,750 cc | 2WD |
| NPR70PR | 4HE1-T | 4,750 cc | 2WD |
| NPR70PV | 4HE1-T | 4,750 cc | 2WD |
| NPR70PVN | 4HE1-T | 4,750 cc | 2WD |
| NPR70PY | 4HE1-T | 4,750 cc | 2WD |
| NPR70PYR | 4HE1-T | 4,750 cc | 2WD |
| NPR71 | 4HG1 | 4,600 cc | 2WD |
| NPR71G | 4HG1 | 0 cc | 2WD |
| NPR71GDR | 4HG1 | 4,570 cc | 2WD |
| NPR71GR | 4HG1 | 4,570 cc | 2WD |
| NPR71GV | 4HG1 | 4,570 cc | 2WD |
| NPR71GY | 4HG1 | 4,570 cc | 2WD |
| NPR71L | 4HG1 | 4,570 cc | 2WD |
| NPR71LAR | 4HG1 | 4,570 cc | 2WD |
| NPR71LAV | 4HG1 | 4,570 cc | 2WD |
| NPR71LR | 4HG1 | 4,570 cc | 2WD |
| NPR71LV | 4HG1 | 4,570 cc | 2WD |
| NPR71P | 4HG1 | 4,570 cc | 2WD |
| NPR71PAR | 4HG1 | 4,570 cc | 2WD |
| NPR71PAV | 4HG1 | 4,570 cc | 2WD |
| NPR71PR | 4HG1 | 4,570 cc | 2WD |
| NPR71PV | 4HG1 | 4,570 cc | 2WD |
| NPR72GDR | 4HJ1 | 4,980 cc | 2WD |
| NPR72GN | 4HJ1 | 4,980 cc | 2WD |
| NPR72GR | 4HJ1 | 4,770 cc | 2WD |
| NPR72GV | 4HJ1 | 0 cc | 2WD |
| NPR72GY | 4HJ1 | 4,980 cc | 2WD |
| NPR72L | 4HJ1 | 5,000 cc | 2WD |
| NPR72LAR | 4HJ1 | 5,000 cc | 2WD |
| NPR72LAV | 4HJ1 | 5,000 cc | 2WD |
| NPR72LR | 4HJ1 | 5,000 cc | 2WD |
| NPR72LV | 4HJ1 | 5,000 cc | 2WD |
| NPR72LY | 4HJ1 | 0 cc | 2WD |
| NPR72LYR | 4HJ1 | 5,000 cc | 2WD |
| NPR72LZ | 4HJ1 | 5,000 cc | 2WD |
| NPR72P | 4HJ1 | 5,000 cc | 2WD |
| NPR72PAR | 4HJ1 | 5,000 cc | 2WD |
| NPR72PAV | 4HJ1 | 5,000 cc | 2WD |
| NPR72PR | 4HJ1 | 5,000 cc | 2WD |
| NPR72PV | 4HJ1 | 5,000 cc | 2WD |
| NPR72PYR | 4HJ1 | 5,000 cc | 2WD |
| NPR75GDR | 4HK1 | 0 cc | 2WD |
| NPR75LR | 4HK1T | 5,190 cc | 2WD |
| NPR75LV | 4HK1T | 5,190 cc | 2WD |
| NPR75LYR | 4HK1T | 5,190 cc | 2WD |
| NPR75N | 4HK1T | 5,000 cc | 2WD |
| NPR75PR | 4HK1T | 5,190 cc | 2WD |
| NPR75PV | 4HK1T | 5,190 cc | 2WD |
| NPR75PY | 4HK1T | 5,190 cc | 2WD |
| NPR75PYR | 4HK1T | 5,190 cc | 2WD |
| NPR81 | 4HL1 | 4,770 cc | 2WD |
| NPR81AN | 4HL1 | 4,800 cc | 2WD |
| NPR81AR | 4HL1 | 4,800 cc | 2WD |
| NPR81DR | 4HL1 | 0 cc | 2WD |
| NPR81GR | 4HL1 | 4,800 cc | 2WD |
| NPR81GV | 4HL1 | 4,800 cc | 2WD |
| NPR81L | 4HL1 | 4,800 cc | 2WD |
| NPR81LAL | 4HL1 | 0 cc | 2WD |
| NPR81LAR | 4HL1 | 4,800 cc | 2WD |
| NPR81LAV | 4HL1 | 4,800 cc | 2WD |
| NPR81LR | 4HL1 | 4,800 cc | 2WD |
| NPR81LV | 4HL1 | 4,800 cc | 2WD |
| NPR81N | 4HL1 | 4,800 cc | 2WD |
| NPR81PAR | 4HL1 | 4,800 cc | 2WD |
| NPR81PAV | 4HL1 | 4,800 cc | 2WD |
| NPR81PR | 4HL1 | 4,800 cc | 2WD |
| NPR81PV | 4HL1 | 4,800 cc | 2WD |
| NPR81R | 4HL1 | 4,800 cc | 2WD |
| NPR82AN | 4HV1 | 4,570 cc | 2WD |
| NPR82N | 4HV1 | 0 cc | 2WD |
| NPR82XAN | 4HV2 | 4,570 cc | 2WD |
| NPR82XN | 4HV1 | 0 cc | 2WD |
| NPR82ZAN | 4HV1 | 0 cc | 2WD |
| NPR85AN | 4JJ1 | 3,000 cc | 2WD |
| NPR85AN-7036587 |   | 2,990 cc | 2WD |
| NPR85AR | 4JJ1 | 3,000 cc | 2WD |
| NPR85AW | 4JJ1 | 0 cc | 2WD |
| NPR85YN | 4JJ1 | 0 cc | 2WD |
| NPS58 | 4BE1 | 3,700 cc | 2WD |
| NPS58LR | 4BE2 | 3,630 cc | 2WD |
| NPS59GN | 4FB1 | 3,850 cc | 2WD |
| NPS59LN | 4FB2 | 3,850 cc | 2WD |
| NPS66L | 4HF1 | 0 cc | 2WD |
| NPS66LN | 4HF1 | 3,850 cc | 2WD |
| NPS71GN | 4HG1 | 0 cc | 2WD |
| NPS71L | 4HG1 | 4,570 cc | 2WD |
| NPS71LN | 4HG1 | 4,570 cc | 2WD |
| NPS72 | 4HJ1 | 5,000 cc | 2WD |
| NPS72GN | 4HJ2 | 4,980 cc | 2WD |
| NPS72LAR | 4HJ3 | 4,980 cc | 2WD |
| NPS72LAV | 4HJ4 | 4,980 cc | 2WD |
| NPS72LN | 4HJ5 | 4,980 cc | 2WD |
| NPS72PAV | 4HJ1 | 0 cc | 2WD |
| NPS81AN | 4HL1 | 4,770 cc | 2WD |
| NPS81AR | 4HL2 | 4,770 cc | 2WD |
| NPS81N | 4HL3 | 4,770 cc | 2WD |
| NPS85AN | 4JJ1 | 3,000 cc | 2WD |
| NPS85AR | 4JJ1 | 3,000 cc | 2WD |
| NQR72GN | 4HJ1 | 4,980 cc | 2WD |
| NQR72PN | 4HJ1 | 0 cc | 2WD |
| NQR75 | 4HK1 | 5,200 cc | 2WD |
| NQR75GN | 4HK1 | 5,200 cc | 2WD |
| NQR75LN | 4HK1 | 5,200 cc | 2WD |
| NQR75PN | 4HK1 | 5,200 cc | 2WD |
| NQR75TN | 4HK1 | 5,200 cc | 2WD |
| NRK71E3N | 4HG1 | 0 cc | 2WD |
| NRR12F | 6BG1 | 6,490 cc | 2WD |
| NRR33C1GD | 6HL1 | 8,200 cc | 2WD |
| NRR33K3 | 6HL1 | 8,200 cc | 2WD |
| NRR35C3 | 6HL1 | 8,200 cc | 2WD |
| NRR71ED | 4HG1 | 0 cc | 2WD |
| P-NKR57E2KN |   | 3,260 cc | 2WD |
| P-NKR58ED | 4BE1 | 3,600 cc | 2WD |
| PA-NPR81N |   | 4,770 cc |   |
| PA-NPR81R |   | 4,770 cc | 2WD |
| PB-NKR81A | 4HL1 | 4,800 cc | 2WD |
| PB-NKR81AD |   | 4,770 cc | 2WD |
| PB-NKR81AN |   | 4,770 cc | 2WD |
| PB-NKR81AR |   | 4,770 cc |   |
| PB-NKR81N |   | 4,800 cc |   |
| PB-NKR81R |   | 4,770 cc |   |
| PB-NKS81A |   | 4,770 cc |   |
| PB-NKS81AN |   | 4,800 cc | 2WD |
| PB-NPR81AN |   | 4,800 cc |   |
| PB-NPR81AR |   | 4,770 cc |   |
| PB-NPS81AN |   | 4,800 cc | 4WD |
| PDG-NKR85YN |   | 2,990 cc |   |
| PDG-NPR75N |   | 2,000 cc | 2WD |
| PKG-NPR75N | 4HK1 | 5,000 cc | 2WD |
| PNKR58ED |   | 3,630 cc | 2WD |
| SKG-NHR85A |   | 2,990 cc | 2WD |
| SKG-NJR85A |   | 2,990 cc | 2WD |
| SKG-NJS85A |   | 2,990 cc | 4WD |
| SKG-NKR85A |   | 2,990 cc | 2WD |
| SKG-NKR85AD |   | 3,000 cc |   |
| SKG-NKR85AN |   | 2,990 cc |   |
| SKG-NKR85N |   | 2,990 cc |   |
| SKG-NLR85AR |   | 3,000 cc | 2WD |
| SKG-NNR85AR |   | 3,000 cc |   |
| SKG-NNS85AR |   | 2,990 cc | 4WD |
| SKG-NPR85AN |   | 3,000 cc |   |
| SKG-NPR85AR |   | 2,990 cc | 2WD |
| SKG-NPR85YN |   | 2,990 cc |   |
| TDG-NKS85AD |   | 2,990 cc | 4WD |
| TDG-NKS85AN |   | 2,990 cc | 4WD |
| TDG-NMS85AN |   | 2,990 cc | 4WD |
| TDG-NMS85AW |   | 3,000 cc | 4WD |
| TDG-NPS85AR |   | 2,990 cc |   |
| TDL44 |   | 2,770 cc | 2WD |
| TKG-NHR85A |   | 2,990 cc | 2WD |
| TKG-NHR85AN |   | 3,000 cc | 2WD |
| TKG-NHS85A |   | 2,990 cc | 4WD |
| TKG-NJR85A |   | 2,990 cc | 2WD |
| TKG-NJR85AN |   | 2,990 cc |   |
| TKG-NJS85A |   | 2,990 cc | 4WD |
| TKG-NJS85AN |   | 3,000 cc |   |
| TKG-NKR85A |   | 2,990 cc | 2WD |
| TKG-NKR85AD |   | 2,990 cc | 2WD |
| TKG-NKR85AN |   | 2,990 cc |   |
| TKG-NKR85N |   | 2,990 cc |   |
| TKG-NKS85AD |   | 3,000 cc | 4WD |
| TKG-NLR85AN |   | 3,000 cc |   |
| TKG-NMR85AN |   | 3,000 cc |   |
| TKG-NMR85AR |   | 2,990 cc | 2WD |
| TKG-NNR85AR |   | 3,000 cc |   |
| TKG-NPR85AR |   | 2,990 cc | 2WD |
| TLD23ZN |   | 2,400 cc | 2WD |
| TLD24 | 4BA1 | 2,800 cc | 2WD |
| TLD26ND |   | 3,300 cc | 2WD |
| TLD34N |   | 2,770 cc | 2WD |
| TLD44 |   | 2,770 cc | 2WD |
| TLD54Z | 4BC1 | 2,800 cc | 2WD |
| TLD55 | 4BC1 | 3,260 cc | 2WD |
| TLD55Z | 4BC1 | 3,260 cc | 2WD |
| TLD56 | 4BC2 | 3,260 cc | 2WD |
| TLD64 | 4BA1 | 2,770 cc | 2WD |
| TLD64D | 4BA1 | 2,770 cc | 2WD |
| TLD65D | 4BA1 | 3,260 cc | 2WD |
| TLD66 | 4BA1 | 3,260 cc | 2WD |
| TLD66D | 4BA1 | 3,260 cc | 2WD |
| TPG-NHR85A |   | 2,990 cc | 2WD |
| TPG-NJR85A |   | 3,000 cc |   |
| TPG-NJR85AD |   | 2,990 cc | 2WD |
| TPG-NJS85A |   | 2,990 cc | 4WD |
| TPG-NKR85 |   | 3,000 cc |   |
| TPG-NKR85A |   | 2,990 cc | 2WD |
| TPG-NKR85AD |   | 2,990 cc | 2WD |
| TPG-NKR85AN |   | 2,990 cc |   |
| TPG-NKR85R |   | 2,990 cc |   |
| TPG-NMR85AN |   | 2,990 cc | 2WD |
| TRG-NJS85A |   | 2,990 cc | 4WD |
| TRG-NKR85A |   | 2,990 cc | 2WD |
| TRG-NLR85AN |   | 2,990 cc |   |
| TRG-NPR85AR |   | 2,990 cc |   |
| U-NKR63ED |   | 3,600 cc | 2WD |
| U-NKR66EA |   | 4,330 cc | 2WD |
| U-NKR66ED |   | 4,300 cc | 2WD |
| U-NKR66GN |   | 4,330 cc | 2WD |
| U-NKR66LR |   | 4,300 cc |   |
| U-NPR58LR |   | 3,630 cc |   |
| U-NPR66PR |   | 4,330 cc |   |
| U-NRR32CD |   | 7,120 cc |   |
| VHR69 | 4JG2 | 3,100 cc | 2WD |
| VHR69K | 4JG2 | 3,260 cc | 2WD |
| VKR66K | 4HF1 | 4,330 cc | 2WD |
| WHR69EAX | 4JG2 | 0 cc | 2WD |
| WKR69EAH | 4JG2 | 3,260 cc | 2WD |