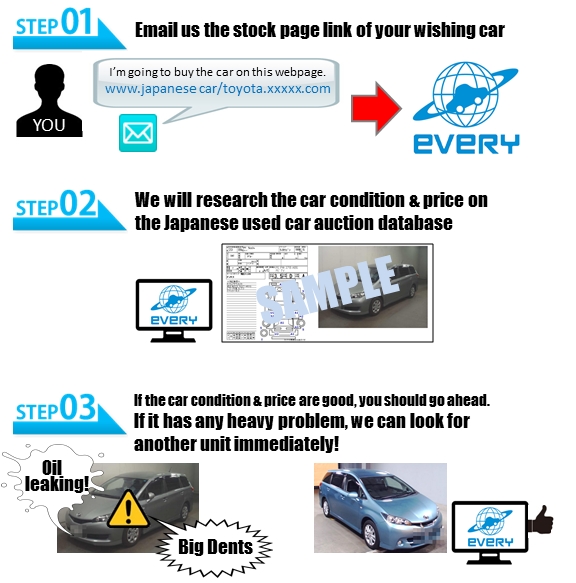 This is one of our special support.
I'm sure you will be surprised about this system.
If you are considering buying from another export company, you should consult with us.
Because We can check the condition of almost any car or any truck or bus in Japan and tell you if it is in good condition or not.
How can we do that ?
Most exporters stocks are got from Japanese used car auction.
And all Japanese used car auction has their condition report and we can check them all.
Therefore , if you will order any car from any other exporter , please tell me which car you want to order.
So we can check "REAL CONDITION" when it was in Japanese used car auction.
This is the support flow , it is only 3 steps.
1.We will research conditon and price of the car which you want to buy from the Japanese used car auction database.
2.We will let you know the general condition if we found your car on the database. And if it's so good condition and good price, you can go ahead.
But if you realized the car has a big problem (Engine noise, rusty
chassis, big body damage, etc) , we can recommend another one immediately.
This is so simple and we take it only 10 minutes.
Therefore if you want to buy any car or truck or bus from any other exporters , you should ask us about the condition history.
If you are looking for any Japanese vehicles , cars and truck and bus , please check our list.
The list of EVERYCAR.jp (* Click to open).
We do our best work for all customer's partnership.
It's for SDGs Goal number 17 "PARTNERSHIP FOR THE GOALS"
Let's work together !!
Best regards
CEO Watabe
—————–
EVERY Co.,Ltd since 2006 year https://www.everycar.jp/
2-10-14 Atago,Chuo-ku,Niigata-shi,Niigata,Japan
Tel : +81252113260
E-mail : info@everycar.jp
Whatsapp : +819072259491(CEO) / ‪+818041520913‬(Sales)
"EVERY's MISSION – To make smile in all over the world"