Cars in stock: 172 Updated today: 0

Kenya
SAMSON ARIMI
I bought one unit from you, a Toyota Fielder. It was my first business with you and I have this to say. I was very impressed with Mr. Watabe. The car was shipped on schedule and it was in excellent condition. I hope to do more business with you. Regards...
Popular MODELS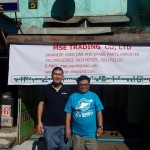 Came back from Myanmar
I came back from Myanmar last week. Myanmar was very hot. I met many customer. I thank for the kindness of everybody heartily. I do my best for myanmar customer. Today I went local auction and got som...
continue reading