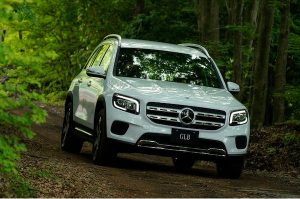 On June 25, 2020, Mercedes-Benz Japan announced the new SUV lineup model "GLB", which is the 9th model, and started accepting pre-orders. Delivery is scheduled around July.
GLB, which has been newly added to the SUV lineup, was announced as the "GLB Concept" at the Shanghai Auto Show in April 2019, and a year later, it was introduced to Japan.

The GLB uses the MFA2 platform for horizontal engines, which is the same as the A class and GLA, but it is a long wheelbase model with three rows of seats and is produced at the Mexico plant.
In the Mercedes-Benz crossover SUV lineup, the body size is located between GLA and GLC.While looking at the wheelbase, it is 100 mm longer than GLA and only 22 mm shorter than GLC, but because of the horizontal engine layout. , The basis is GLA-based.
It can be said that the main markets for this model are the sizes that match the body size in the United States and China. The packaging is a three-row seat / seven-seater, but the third row seat is a narrow space with height restrictions.
If you are looking for awny Japanese vehicles , cars and truck and bus , please check our list.
The list of Japanese Used CAR , Truck and bus exporter EVERYCAR.jp (* Click to open).
We do our best work for all customer's partnership.
It's for SDGs Goal number 17 "PARTNERSHIP FOR THE GOALS"
Let's work together !!
Best Regards,
YUI