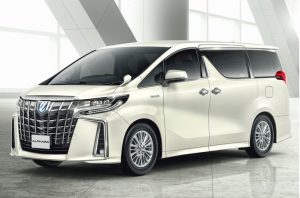 Toyota Motor Co., Ltd. announced on December 18, 2019 that the minivan "Alphard" and "Vellfire" will be partially improved and released on January 6, 2020.
In this improvement, 9-inch display audio that can be linked with a smartphone is standard equipment.

For users who want to use conventional car navigation systems, an "Entry Navi Kit" or "T-Connect Navi Kit" is also available. In addition, the existing "T-Connect SD navigation system" has a 10.5-inch display, and the rear seat entertainment system has a 13.3-inch display to increase the screen size.
The back guide monitor is standard equipment on all models, and the standard setting grades of 3-eye LED headlamp, welcome power sliding door and reservation lock function have been expanded.
In addition, an electric side step that expands and retracts in conjunction with opening and closing of the sliding door is set as an option.
YUI